By Bonnie Koenig
Terror strikes into the heart of the blogger.  You go to your blog, expecting to find it but instead the page is blank. Worse, you might get an error saying the link is not found. There is nothing at all at your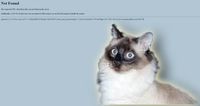 website.  What to do?!
It gets worse. You contact your host and they unhelpfully tell you, "It's a WordPress error."  What do you do?
If you have a basic understanding of how WordPress works, it will help you work through any error messages you may get.  First, I need to apologize to any other WordPress experts out there. This is about 700 words on how a program works, so it is necessarily limited.

Let's look at how WordPress is set up.  WordPress is based on a database program called MySql*.  MySql is open source, which means the code is readily available to anyone who wants to look at it and program it.  Open source is also free.  MySql  stores the data.  If you want to retrieve the data more elegantly than by going to the databases, you use a program called PHP to tell the database which data you want where. Like MySql, PHP is also open source.
PHP is an active program. This means that it tells the computer what to do, but how it looks depends upon another program. Online, this program is typically html, the code programmers use to design a website.  I'm using the term html broadly here as most people are using CSS with html.
The combination of these three things is what allows WordPress website designers to create powerful websites (not just blogs) that look very different from one another. They are limited only by their abilities to design a site and their creativity in how to tell the database they want certain types of information in one place but not another.
Many people using WordPress use plugins and/or widgets of one sort or another. Plugins and widgets basically create new code to add to certain parts of the website (or the entire website).  These may require that new tables be added to the database so that users can create even more ways to sort their data or create new relationships between different types of data.
If a WordPress site crashes, there are several things to consider. If you have just changed something, it's important to see what you just changed. For instance, adding a new plugin may cause problems depending upon the site configuration. If you can't access your administration panel, go into the domain Cpanel and delete the plugin folder from there and see what happens. In many cases this will solve the problem.
Another common issue is a problem with the host.  Don't hesitate to contact your host.  I love Hostgator  because often even if I think the problem is a WordPress issue, they can help me troubleshoot it. This is wonderful as I've had issues with other hosts that blame WordPress for things it's not doing.
If your host can't help, you haven't installed or updated anything, you can always contact the WordPress Forum.  The forum has a lot of people who live and breathe WordPress. They are great at troubleshooting or talking a less technical person through the steps to fix a problem. You may not get immediate help but someone will answer.
If you need someone faster and don't have a webmaster around who can answer your questions, go online and do a search.  I'm finding more and more small businesses which specialize in helping WordPress users when they run into trouble on a case by case basis.
WordPress doesn't crash easily and it rarely causes problems on its own. However, now and again someone runs into trouble. Understanding the internal workings is a big help. Knowing there are places to go if you can't get an answer on your own is huge.
The problem I described up above?  It happened to me when I was moving servers.  I had updated the database but I hadn't installed the themes. The themes I used had certain codes that were required and the database didn't find these, so everything remained blank. It took me two hours and lots of reinstalls to figure that one out.
*MySql= often read as the individual letters but also read as "My Sequel" as it's an open source competitor to Microsoft's SQL server, which is pronounced "Sequel Server."
____
Bonnie Koenig is a web consultant and WordPress web designer.  Bonnie loves to educate people about what to look for when designing a website.    In her spare time, she designs marketing materials for acupuncturists.  She and her cat, Cheysuli, have been blogging together since 2006.  Find Chey and Bonnie at the revamped http://www.mysiamese.com.