by: Carol Bryant
We all want it: More traffic. More likes on Facebook, more followers on Twitter, and so on. Wanting it and getting it are two different beasts.
Being a resource to others is what has helped BlogPaws become the valuable online and in-person resource for pet bloggers and microbloggers that we are. Being a resource to others means you are a first point of contact when someone has an issue.
With that in mind, here are 20 things you can do right now to increase your blog and/or social media traffic and presence:
20. Add your website to the About section of your Facebook profile. Be sure your website can be seen and is a hyperlink and clickable in the About section. Like this: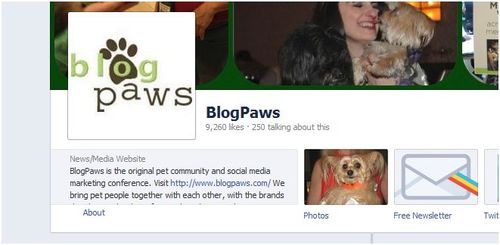 19. Don't neglect email marketing. Contrary to what some say, email, if done right and without being spammy, is alive and well. BlogPaws even had a complete session on this at our recent conference. Be thoughtful about the content and consistency as well as frequency of any email marketing you do.
18. Follow other blogs and comment on them with regularlity. How does this help your traffic? The first word in "social media" is social, after all. No relationship should be one way. Don't complain about lack of traffic or numbers if you don't give back.

17. Follow Facebook page insights and get to know why people are coming to your page and more. Not familiar with the Facebook insights and the new changes and additions? Pawsible Marketing has a wonderful detailed post about the topic here: Facebook New Insights.
16. Engage on Twitter and engage in #BlogPawsChat most Tuesdays from 8 to 10 pm EST. Folks have asked me what the purpose and value is of coming to these chats. Yes we have fun and socialize, but you can gain followers by attending, introduce yourself or just sit back and follow along as you get to know other pet bloggers and microbloggers. If you are more of a shy personality, Twitter can bring out the very best in you…and new followers is always a good thing.
15. Add images to your Facebook comments. Images are more likely to get you LIKES and get shared than those posts without.Facebook now has a photo comment feature in response to posts. Cool stuff!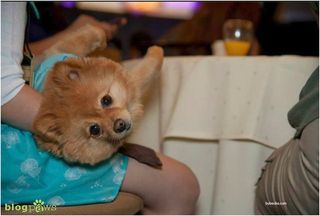 14. Have a visible location on your blog where folks can respond. One of my biggest pet peeves is visiting a blog, wanting to comment and then having a hard time finding where to do so. If I have to search for it, I probably won't stick around. Let me tell you how awesome your content is by making it easy to find your REPLY feature.
13. Make your social media buttons loud and clear on your blog's homepage. I want to find you on Facebook, Twitter, Google +, and wherever else you exist. Show me the way. Loud and clear. Above the fold. It matters.
12. Wade into the waters of Instagram. I am having a field day on Instagram and love it for visual candy as part of my day. It's easy, fun, and I get to promote and find content. Win, win! When you follow folks in Instagram, be sure to @tag them. We reently shared Instagram tips for pet bloggers. 

11. Engage with the BlogPaws Community. With 2,300+ members, we are a community of strong, like-minded, pet-centric people. Want pet people to follow you? They can find you if you tell them you exist, and the BlogPaws Community is the place to do this.
10. Add
links to your blog's social media profiles in your email
signature. Create a signature template that includes any links you desire. I use WiseStamp, but there are many others.
9. Get a YouTube account. I do at least one video a week. It does not have to be time consuming or involved; but it should be pertaining to your blog theme. I also like Vine these days and am loving the new Instagram video feature. Vine allows for 6-second looping videos. Instagram provides 15 seconds of non-looping video.
8. Start saving now for BlogPaws' 2014 Conference. As the PR Manager for BlogPaws, one of the things I heard as we approached the conference this year was how folks wanted to come but did not have the funds to fly or drive. Save now and make a game plan: How much do I need and how much do I need to put away monthly? Why is BlogPaws worth it: Right here.


7. SEO for pet bloggers, or any blogger for that matter, is
important. Having been to all four BlogPaws conferences, I learned the value of
SEO (search engine optimization) and how to apply it to my own Fidose of
Reality blog. Guess what? The tips I received at BlogPaws worked! Guest blogger
Matt
Beswick shared some SEO advice on the BlogPaws blog.
6. Visit sites that key you in on hot topics and ideas for
your blog. I wrote about this in "Eight
Ways to Get Traffic to Your Blog" and these tips hold true. I still use
them!
5 Blog consistently. If you are not blogging regularly, even
if regularly means once a week, people will forget your blog exists. Blog with
headlines that make people want to click through.  Headlines like Seven Money Saving Tips for New
Puppy Parents make the reader want to learn more and sounds actionable,
concise, and targeted.
4 Share your content. Make it easy to share with buttons on
your blog posts. Share blog posts on Twitter, Facebook, Google +, and where
applicable LinkedIn and LinkedIn groups. Be a source of advice and information
but not pitchy and self-promotional.
3 Each week, BlogPaws hosts a Wordless Wednesday Blog Hop on our
website. A Blog Hop is a
blog post that includes a list of links to other bloggers' posts with a common
theme; often the links include thumbnail pics. The list of links (linky list) is
shared on multiple blogs. Participants can join the hop from any blog that
shares the list. You get followers! You meet people. You learn things. Win win win! Kristin Dewey of BlogPaws wrote a fab post on getting engaged with the BlogPaws blog hops. If you do any one tip in this post, do this one. Right now. The next time the calendar says "It's Wednesday!"
2 Engage with the BlogPaws Pet Blogger Network. Are you a pet blogger that wants to monetize your blog and be considered for programs with brands? Have we heard from you?
1 Create a post of your best blog articles. This is a great way to recycle posts and also be relevant to your existing audience plus grow your blog so others can get to know you…and return.
What's your favorite tip for getting traffic to your blog and/or microblog?