What's on your agenda for National Pit Bull Awareness Day? Several of the BlogPaws' Executive Team will be in Littleton, CO attending the Pit Bull Parade!
If you live in or around Littleton, CO, we hope to see you there! Let's support our pitties! Notice how nicely our Onyx smiles in this pic…
As BlogPaws' Teen Ambassador, Miah, writes on her blog, Start-the-Change:
…in honor of National Pit Bull Awareness Day, I wanted to share these facts about temperament: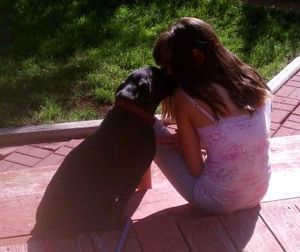 American Pit Bull Terrier – 804 tested, 694 passed = passing rate 86.4%
American Staffordshire Terrier – 627 tested, 528 passed = passing rate 84.2%
American Bulldog – 185 tested, 158 passed = passing rate 85.4%
Staffordshire Bull Terrier – 117 tested, 105 passed = passing rate 89.7%
Overall Passing Rate for All Breeds 83.0%
*Information from the American Temperament Test Society
We KNOW there are LOTS of parades and events happening today, in honor of this wonderful breed. Share them here…we want to hear your stories!
UPDATE:
Here's a shot of many of the paraders resting in Bega Park along the route. That's Chloe and Miah, with Onyx, front-left. I'm (Tom) behind the camera and Yvonne is just out of the picture to the right, shooting from a different angle.