Taking the right pictures with the right angle and the right lighting leads to a perfect photo for your blog, right? WIth the influence of visual assets to the social media landscape (Pinterest, Instagram, etc), having the right photos to complement your brand messaging is essetial for success.
At the BlogPaws 2013 Conference, we've got someone set to give our attendees top notch advice to making your blog picture perfect. Ali Peterson will lead a session on Friday, May 17th from 3:15 to 4:15. Here's what you can expect:


BlogPaws: Hey Ali, thanks for joining us. You are making the trek all the way from Colorado Springs, Colorado. How many times have you been to BlogPaws?
Ali Peterson: Once, as an attendee in 2012.
BlogPaws: Pictures are so important to accompanying a blog post. What specifically will you be speaking to the group about?
Ali:  I'm going to discuss ways to improve
images for your blog. The key takeaways I plan to include are: basic
photography fundamentals and camera operations, pet modeling techniques and
product styling tips, small retouching steps that make a big difference, how to
create a clean and memorable watermark and why it's important, how keywords and
links can effect your SEO and where to obtain professional images from outside
sources.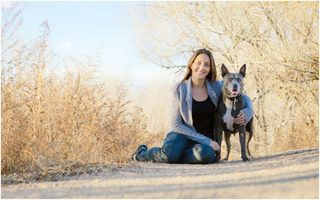 BlogPaws: What do you hope people gain/learn by attending your
session?
Ali: Many bloggers are writers, not
photographers, so I hope to give them valuable knowledge and insight on how to
create and/or obtain better images that will give their blog a more
professional, polished appearance.
BlogPaws: What is your favorite aspect of attending BlogPaws/what
do you most anticipate as an attendee?
Ali: I find that
BlogPaws is not only a great way to meet fellow pet lovers who are striving to
achieve their dreams, but it's also a valuable resource for education and
networking. Everyone involved, from the attendees to the staff, are fun and
friendly people who share the same passion for pets, which makes the whole
event a great time.
BlogPaws: Do you have pets and if so, tell us about them!
Ali: Of course! I have 3 American
Pit Bull Terriers. Skyy (which is who I named my business) is a 6 year old
blue female. Utah is a 5 year old white male. And Rain is a 3 year old black
and white female.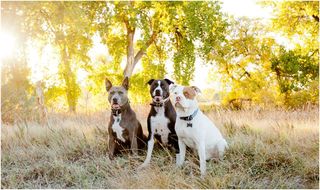 BlogPaws: Where can people learn more about you? (blog, Twitter
handle, Facebook links, etc):
Ali: I'm all over the web,
but the best place to go is my main website www.skyybluephoto.com. For my complete
story, visit the About Ali page. My social media profiles are:
Facebook,Twitter,Google+,Pinterest,YouTube,LinkedIn and Instagram.
BlogPaws: What is one website you visit at least once daily?
Ali: I can't say that I have a favorite website that I visit
daily. I guess I visit Pinterest the most. It's just so appealing as a
photographer seeing all those inspirational nd creative images. I tend to visit
the sites listed in the next question a couple times per week. 
BlogPaws: What is a favorite blog or blogger you follow regularly?
Ali: Most of the blogs I follow are focused on photography.
Some are fellow pet photographers, some are design oriented and some are
educational. They include Psychology For Photographers, DesignAglow, Hair
Of The Dog, The Daily Dog Tag, The Modern Tog, Tails From The Lab, McGraw
Photography… 
Join us for the nearly sold-out conference (hurry, get tickets asap) –
at the BlogPaws 2013 Conference. You
will have access to a variety of "tracks," including 101 for Beginners,
201 for
Intermediate level, and even a Pro Level for seasoned bloggers who want
to take
their blogging and goals to the next level. An exclusive 4th track
will cover a variety of topics from Law to Lifestyle to Be the Change for
Animals.