by: Carol Bryant
In my many years of writing, blogging, and editing I have
heard every excuse imaginable as to why someone cannot be a successful pet blogger.
I know because I harbored anxiety and allowed it to help me avoid success instead of squashing it and reaching for the brass
ring instead.
There are at least six reasons I find to be the most common
(again, I've been there, done that), as to why someone cannot be a successful
pet blogger. With the first weekend of January 2013 officially over, most
resolutions posts will be riding the wave out. So take these six reasons with
you instead and don't become a successful pet blogger. I guarantee you, if you
do these eight things success will not be yours.
Or you can flip those reasons on their head, dismantle them,
and kick negativity in the gut. These six commonly heard reasons include:
"I work all day and there is no time for me to blog." Then
don't blog. You should not blog if you truly feel there is no time in the
course of your waking hours for it. OR you can start cultivating a mental attitude
that will allow you to carve out a half hour or hour to blog each day. Simply
stated, writers write and bloggers blog.
"There is no way I can keep up with the big bloggers." Then
stop running behind them. Ask any of the "big bloggers" how long it took them
to get there and how many hours they spent devoting themselves to the blogging
tasks at hand. From acorns come great oaks, and growing a blog takes time.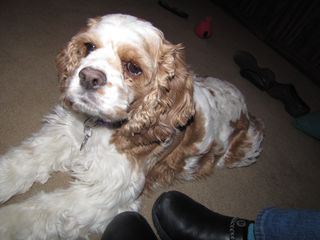 "I have no idea where to start." Truly, madly, and deeply I
can relate to this one. Once I get started writing, the flow is there.
Regardless of where you choose to start, find a launching point. For me,
the  start of a blog post or an article
sometimes stumps me: So I start with the middle or summarize first what I want
to convey in my words. Start with the end if you have to, but by all means,
simply start.
"There are too many social media platforms to keep up with."
Yes, there are. So don't try to keep up with them all. Both new and seasoned
bloggers will face this same dilemma and there is no one right answer. The
social media platforms that suit you might not be the ones I favor. Hit the big
guns (Facebook, Twitter, Google +) and then work to develop a social media plan
for your blog.
"The tech is way over my head." Indeed it can be. This is my
favorite excuse, and one I relied on time and again. So I did a little
research, found blogs I admired, and then made a plan to find the right blog
tech person without breaking the budget. BlogPaws' community is ever-evolving
and discussing such topics, so joining this free pet bloggers resource is
priceless.
"I wouldn't know where to find any people like me."
Newcomers to blogging (as we all were at one point) often feel this way. There
are communities galore and networks times infinity online, and the BlogPaws
community is a great place to browse, learn, and engage. You'll
find most bloggers are incredibly helpful and very reciprocal.
Finally, if anxiety gets the best of you and the "what might
happen" jitters cross your mind, I leave you with a quote that resonates me
with: "Leave the past behind and live tomorrow when it comes." Failure only
happens if you don't try.
What has been or continues to plague you when it comes to pet blogging? Bark at us below!