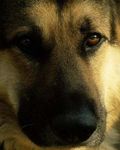 by: Carol Bryant
Are you interested in getting "Pinterested?" The marketing service, Experian, recently reported that Pitnterest is the third most popular social network on the Internet, placing behind Facebook and Twitter.
BlogPaws' co-founder, Caroline Golon, hosted a session on Pinterest at the recent BlogPaws conference in Salt Lake City. "While Pinterest has been chugging along for a while, it's recently become a freight train," Golon shared. So what's with this locomotive action and how can pet bloggers and microbloggers get involved? (oh and yes, pet bloggers should care about Pinterest)

Simply stated, pin, post, and share. In a guest post from afFURmation's Dawn Miklich earlier this year, post ideas can show up anywhere online. If you are browsing the Internet at any given time (and who amongst us isn't), you've got the materials needed to "pin." Do you read blogs, catch up on news, and/or like to get the latest in the pet world online? Pin it!
Looking for something to blog about? Miklich shares that post ideas can be found on Pinterest by looking by category or searching by putting a hashtag in front of your search term to pull up any pins people tagged with that term.
Penny Sansevieri, founder of Author Marketing Experts (AME), spoke at BlogPaws 2012 on getting
published.  A woman who lives what she teaches, the current edition of Costco Connection magazine features a 2-page spread about Pinterest, and Penny is one of the main sources. The book publishing dynamo reported she has 500 pins on 17 boards that blend her business and her personal interests. (read the whole story here, at this Costco Connection link)
Before fully engaging, Penny revealed she visited how others, including competitors, used Pinterest. She prefers repins because they provide links to her website while boosting exposure and generate potential leads, hence revenue.
The article in Costco Connection revealed that women are Pinterest's largest demographic. So where can you jump in and learn, start pinning and helping your blog traffic? Check out our BlogPaws links below.
If you are already on Pinterest and want to share your board, do so in the Comments below. We'd love to see what you're pinning!
What's the Deal With Pinterest
Pinterest For Your Blog Part One