Rock
stars of the pet rescue world will be gracing the stage for the exclusive "Be
the Change for Pets: BlogPaws" track that is brand new this year! Indeed,
BlogPaws is proud to present sessions geared to folks who want to create buzz,
connect social media, and make a difference for pets.
We
knew who to go to when we were planning this track. BlogPaws proudly presents
Eldad Hagar and Annie Hart for the "Make Some Noise: How to Connect All Your
Social Media and Create Buzz" session at our 2013 Conference in Tysons Corner,
Virginia. Busy as they are with helping pets and giving back, we managed to
pull them aside for an insider's interview with this pair (and what to expect
at BlogPaws). Here's what they told us:
BlogPaws:
What an honor to have you both speaking at BlogPaws. What do you plan to share
with attendees of your session at BlogPaws?
Annie
Hart: We will be discussing how we've
effectively learned to share stories in a way the excites people and encourages
them to not only take part in what we are doing, but also share our work with
others so that our following expands throughout all of our social media sites.
By doing so, this creates a buzz that in turn
helped us grow our brands.  We will
teach the methods that took us from reaching hundreds to millions in just over
two years. 
Eldad
Hagar: The thing I am really hoping to do this time (and wasn't able to
do last time), is to connect with bloggers in regards to having them share my
stories. 
BlogPaws: So when folks walk away from the Eldad and Annie
session, what can they hope to have gained?
Annie: The ultimate goal of our session is
to teach how to create followers that consider your brand and all of your sites
(whether it be for profit or non-profit) part of their daily ritual. 
Eldad:
Mainly, how to connect all your social media properties, how to
tell your stories, and most importantly, how to get the world buzzing about
you.  I am assuming Annie & I will work on a Power Point presentation,
and we might show a video or two because YouTube is obviously a huge component
of the way we tell our story.
BlogPaws: Where can folks find out more about you and connect
online in advance of the conference?
Annie: Facebook
is my strongest social media site and the best place to learn about myself and
Bill Foundation. http://www.facebook.com/BillFoundationDogRescue
YouTube showcases my rescue videos. My favorite and most heartfelt
video is Tessa's Rescue and Rehab.http://www.youtube.com/billfoundationdog
Twitter:  http://twitter.com/billfoundation
Pinterest: http://pinterest.com/billfoundation
Eldad:
Facebook: www.facebook.com/eldad75
Facebook2: www.facebook.com/HopeForPawsCalifornia
Twitter: www.twitter.com/HopeForPaws
Website: www.HopeForPaws.org
BlogPaws: What
is your favorite aspect of attending BlogPaws/what do you most anticipate as an
attendee?
Annie:
Since it's my first year, I'm not
sure what expect but I'm excited to connect with so many other amazing people
in the animal blogging world.
BlogPaws: Okay, what pets share your
lives?
Annie:  Arnold- Great Dane/American Bull Dog and
Buppie de Puppie- brussels griffin/spider monkey 🙂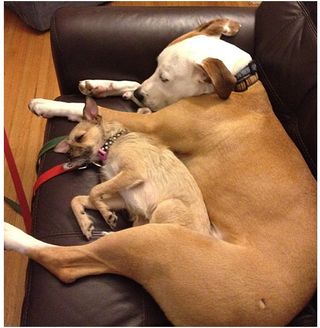 Eldad: I
have 3 dogs and 2 cats.  Dogs: Dolly (9), Heidi (8), Chase (7). 
Cats: Brooke (1), Cosmo (1).
BlogPaws: What is something totally unique about you that folks
would be surprised to learn?
Annie: It's been less than a year since I
dedicated my life to dog rescue and launched all of our social media sites. And
boy, what a year it has been!
Eldad: I am originally from Israel, and in my recent visit (2
months ago), I rescued an injured donkey that was abandoned in the middle of
the desert.
BlogPaws: Any websites you visit
often?
Annie: I'm embarrassed to admit it,
but when I need an animal-free, just for fun read, I go to www.wwtdd.com It's trashy, but a wonderful
guilty pleasure!
Eldad:  My favorite blogger: Lisa
Taron, and her blog: www.PetBlogLady.com
– she always makes me laugh.
Ready to take your blog to the next level or learn how to
get started? BlogPaws 2013 Registration is in full swing. Join us May 16-18 in
Tyson's Corner, Virginia. BlogPaws is a pet-friendly 3-day life changing
conference! Register for BlogPaws 2013 here.
P.S. You will have access to a variety of "tracks,"
including 101 for Beginners, 201 for Intermediate level, and even a Pro Level
for seasoned bloggers who want to take their blogging and goals to the next
level. An exclusive 4th track will cover a variety of topics from
Law to Lifestyle to Be the Change for Animals.