Guest post by Stephanie Newman
(The Musings Of A Crazy Cat Lady)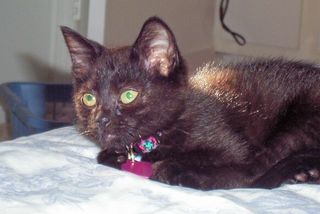 A 2012 University
of California, Berkeley study looked at stereotypes people
have as to domestic cats and their fur colors and how fur color affects
adoption rates. The results showed that even in this day and age, stereotypes
abound about black cats.
Mikal Delgado, the lead author of the study, said people
"assign personality traits to different color" cats. While some, such as orange
cats were thought be friendly and white cats were thought to be aloof, black
cats didn't elicit any particularly strong feelings in one way or another. As
a matter of fact, Delgado thinks that people might view their appearance as
"boring" and because of their black color, black cats are lacking in
personality.
I encountered out-and-out anti-black cat attitudes at an
adoption event last weekend.
A man showed up with his two young boys in tow,
looking for a new friend. I showed him around, pointing out some black kittens
and some older black cats. I told him about how great black cats are and that
I'm owned by two of them. "No," he told me in front of his sons, "I just don't
like black cats." When pressed for an explanation, all he could say was he
didn't like their color and he wanted a "more colorful cat" for his family.
I felt so bad for those nice black cats. He ended up with a
tuxedo cat kitten. How's a tuxedo kitten "colorful?" There was something deeper
he wasn't telling me, but I knew what it was: superstition and ignorance. I restrained myself from scolding that man for perpetuating
ill feelings about black cats into another generation and I redoubled my
efforts to show black cats to others.
Some shelters and rescues create detailed profiles hoping
when people see a black cat, they see the cat and not the color. Others waive
adoption fees to encourage adoptions of black cats. Some refer to black cats as
"house panthers" or "mini panthers" to make them more appealing.
I've come to the conclusion that some notions have been
around for so very long that it'd take a long-term concerted effort to undo
them. Superstitions have no room in the high-tech modernity of the Twenty-First
Century and misinformation about anyone or anything can cause real harm, so
having a day like Black Cat Appreciation Day on August 17, 2013 in the long-term may go a long way
to educated people that black cats are just as loveable as any other cat.

Freelance Writer – Editor Stephanie Newman, is a Professional Member of the Cat Writers' Association, Inc. member, a member of the Pet Professionals For Pet Adoption and she  blogs at: www.themusingsofacrazycatlady.com and writes for: Examiner.com. Connect with her at: LinkedIn: Stephanie Newman or follow her on Twitter: @micrazycatlady Her
work has appeared in The Oakland Press newspaper, Fully Feline
Digital Magazine and Natural Awakenings Magazine of southeast Michigan.