It is with great pleasure that we announce our BlogPaws 2013
Nose-to-Nose Awards celebrity emcee.  
BlogPaws
welcomes David Frei as our 2013
Nose-to-Nose Awards celebrity emcee.  David
is the public spokesperson for the Westminster Kennel Club and has been the
television voice of Westminster since 1990. With
Westminster, David helped to create Angel On A Leash, a charitable
activity supporting a therapy dog program at the Morgan Stanley Children's
Hospital of NewYork-Presbyterian.  Angel
On A Leash later became an independent charity with David as founder
and president, and the program has expanded into a number of additional
facilities across the country. The success of the program provided the
inspiration for his book of the same name. 
He
is well-known to millions of television viewers as
the longtime co-host of USA Network's annual telecast of the popular Westminster
Kennel Club Dog Show, which airs every February. David also has been co-host on NBC
of The National Dog Show presented by Purina on Thanksgiving Day since its inception
in 2002, a telecast seen by about 20 million viewers every year.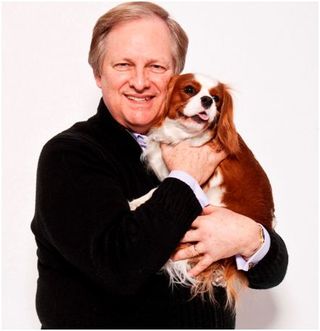 A longtime
breeder-owner-handler and judge in the world of purebred dogs, he has enjoyed
much competitive success with his Afghan Hounds, Brittanys and Cavalier King
Charles Spaniel, and has judged at dog shows all over the world.  
Frei is most proud
of the wonderful work that his own dogs do as therapy dogs, regularly visiting at
the Ronald McDonald House New York, Memorial Sloan Kettering Cancer Center, and
the VA Medical Center in New York. His Brittanys, Teigh and Belle, who have
recently passed, pioneered the practice there and in many other places, and his
Cavalier, Angel, and Brittany, Grace, are carrying on for them today. His
second book, Angel On A Leash, about his work and observations in the world
of therapy dogs and his life in dogs, came out to rave reviews in November
2011.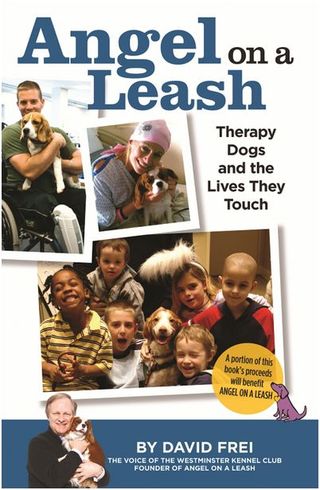 David's
contributions to the world of dogs have been recognized with top awards from the
Dog Writers Association of America (2009), the World Dog Press Association
(2010), and the Association of Purebred Dog Writers (2012).
He has been
honored for his work with Transfiguration Church and School in New York's
Chinatown, and his work with Angel On A Leash has been recognized by the
American Cavalier King Charles Spaniel Club and by a number of other organizations
as well. He is a past board member for Take The Lead and the Morris Animal
Foundation, and a past member of the St. Jude's Children's Hospital Sports
Council.  
In 2004, he
appeared in one of the final episodes of the HBO hit series, Sex And The
City, playing a smitten dog show judge awarding a big win to Charlotte
and her Cavalier (mostly to Charlotte). Previously, he held public relations
positions with the Denver Broncos, San Francisco 49ers and ABC-TV Sports in New
York. 
A native of
Oregon and a longtime Seattle resident, he owned two very unique and popular
sports bar restaurants in the Seattle area, as well as his own public relations
agency, before moving to New York City in 2002. 

Meet David at BlogPaws and be a part of the in-person red carpet media coverage
and awards ceremony. BlogPaws keeps upping the bar(k) higher and higher each
year, and this year is no exception.
If you haven't registered, we encourage you to do so as soon as possible.  Celebrate with your peers in style at the BlogPaws 2013 Nose-to-Nose Social Media and Pet Blogging Awards.