In case you haven't heard, the BlogPaws 2013 Conference is in full swing. From May 16 through May 18, pet bloggers, social media enthusiasts, pet brands and industry experts will descend on Tysons Corner, Virginia for three days of learning, growing, networking, and of course, "playing." Oh, and the whole thing is pet welcoming (w00t!)
As we inch closer to the big kickoff date, you probably want to start getting an idea of what takes place during those three days, right? We're growing so very much that we have a full day of sessions and things to do on Thursday, May 16th. You know the host hotel has sold out and we have nearby overflow hotels open that are pet friendly, right??? Don't wait on that, as we're expecting a sell out! Well, Thursday is definitely a day of things not to be missed. Here's the lineup, so start planning:
Workshop: Anatomy of a Video with Kenn Bell takes place from 1 pm to 4 pm. We just received word that Kenn is going to shoot a Dog Files episode from his
Thursday session at BlogPaws, to demo interviewing technique and more! There is NO pre-registration required but there is limited seating.In case you don't know, Kenn is the Creator/Executive Producer of the website and video series, Dog Files, and the Animal Planet Special, Hero Dogs Of 9/11.
Who should attend? Anyone who wants to learn how to do video for their blog, their social media pages, and wants to learn first-hand what it takes to put the video together and get it out to the world.  Seating is on a first-come, first-served basis.
Also taking place:
From 1 pm to 2:30 pm on May 16th, "Intro to Google Analytics." Yes, we have a Senior Account Manager from Google coming to BlogPaws for this exclusive presentation. Again, seats are first come first served and no pre-registration.
Who Should Attend: Anyone who has questions about the numbers behind their blog. Did you wonder what's happening with Google Analytics, why they matter, how to best interpret and utilize them? Then this is the session for you.
And more sessions:
From 1 pm to 2:30 pm, join Robin Olson, cat writer/blogger for "After
Tragedy Strikes: How a Blog, a Rescue Group & 15 Cats Helped Heal Hearts in
Sandy Hook, CT."  As Robin shares, "It's about storytelling, leveraging a blog and
online community and a love of cats, to create a buzz about a special program
for the kids in Newtown, CT. It's also about working with the press, trusting
your instincts and being a better blogger."
Who Should Attend: Anyone who feels that they want to (and do) have the power to truly change the world through your Blog if
you focus on a heartfelt, honest message, tell a compelling story, and build a strong online community to support your efforts.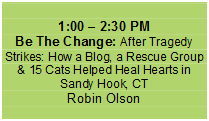 And if you are involved in pet rescues, with a shelter, or want to be, we've got something for you:
Businesswomen Sybil F. Sterschic and Kristin Elliott team up for "Strengthening Your Brand: Better Marketing for Rescues and Shelters" from 2:45 pm to 4:15 pm.
Who Should Attend: As Sybil tells it, "Kristin Elliott & I will present an engaging
and informative session in which we share nonprofit marketing insight and the
experience of a "customer" who supports animal welfare groups. We
also built-in a special breakout session enabling participants to apply the
content to their organizations to improve their relationships with sponsors
& donors, volunteers, adopters, and other important "customers."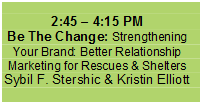 But wait, there's more… check this out:
Bloggers vs. Veterinarians: "It's Not a War, Folks, Come Learn How to Get Along" is sponsored by the American Animal Hospital Association(AAHA) and features some heavy hitters in the industry, including the team listed here:
Who Should Attend: Anyone who wants to get face-to-face and up close and personal with veterinarians who are also well-established and credible pet bloggers. Ask questions, learn, and get tips on becoming a trusted resource in the pet blogger community. This takes place from 2:45 to 4:15 on Thursday, May 16th.

The BlogPaws 2013 tentative conference program can be downloaded by clicking this link:
Download BP2013 Agenda draft 4-11-13 or by clicking on the image of the schedule.
Don't delay in registering…. we've upped the bar(k) high and this is just the kickoff day!Later that night: