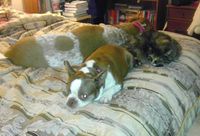 by Yvonne DiVita, BlogPaws' Co-Founder
I hear from our members that they are increasingly being pitched products or ideas for mention on their blogs. This is good news in that we know PR firms and brands are recognizing our power. They want us to talk about them to our friends. They realize we have influence. This is true even of a small blog that may only have 100 visitors a day. Those visitors count. 
As you grow, you will receive more and more of these invitations. Some will be relevant to your writing, others will  not. Some will make you feel sad because they are about shelters, rescues or a program supporting shelters and rescues, and you want to write about them but… you can't write 10 different posts about 10 different things going on, and still get your own writing done. And, some will make you mad. Because they will assume you're going to cover their product for free… free product, that is. It's not the message, sometimes, it's the assumption that your time if not worth anything. 
Here's the skinny on all of this.
Every time you do a free product review, you sell yourself, and your fellow bloggers short. Be selective. No, I am not advising you stop doing free product reviews. I am saying, weigh the free product and your influence carefully. Ask yourself, "Should I get paid for this review? Did the newspaper or major magazine in which an ad was placed for this product, do it for free? Why is my blog any different?" Truth is – your blog has more relevance than a major magazine or newspaper ad. 
When pitched a product you'd like to do a review on, but which you'd also like to get paid for, here's an idea – respond enthusiastically and say something like this, "I'd love to cover xxx on my blog. It's exactly the kind of item my readers love to hear about. Product reviews of this kind only cost $100 – since I will be taking at least 2 hours to not only test the product but write about it, with pictures." Note that you are asking to be paid for your time. And, your expertise. Not your review. 
Next, when you receive a pitch for something that you'd like to cover, but can't, what do you do? "Can't" is a relative term – maybe you're swamped with other projects and don't feel that it would be fair to take on a new one, knowing the new one will go to the bottom of the pile (or list). Write back to the people who pitched you, be polite, explain why you can't do the review, and let them know if they may write to you again. You should create reusable language for this so you don't have to write something new every time.
Last, when you receive a pitch obviously directed to a group…and your name is not even included, sort of like: "Hi! We'd love to share our latest news with you about our client's most recent productline…" you should do one of two things. You should delete it and ignore it. Why respond to a broadcast email? Do they even really know who you are? Or, you should write back and tell them why you're declining their invitation. Again, always be polite. "I do not accept pitches directed at large groups. This pitch makes me feel like a faceless person in a crowd." Or something like that. 
Be honest if the product isn't for you. i.e.: "I don't write about this topic/article/product on my blog. Thank you for thinking of me."
When should you just delete and not respond? Well, a couple of weeks ago I received a pitch which began, "Dear Mr. Divita." Yep. Mr. Divita. (for those who don't know me… I have never been MR Divita… it's Ms DiVita, thank you) Can you say delete without looking back?
Last word of caution – if you want to work with a firm, if they've approached you politely and shown they've actually read your blog, but you just can't do it now, tell them. Be honest. I always thank good firms for their patience.
We want you to be a success at your work. If you are planning to monetize, think carefully about accepting free pitches, no matter what they are for. If you love getting great free content, remember to be selective and make the PR firm do the same. Read Susan Getgood's post on "Should You Work for Free?" and consider all the options when you respond to a pitch.
You are an important voice – your opinion counts.
Any good or bad experiences to share? We're all ears…