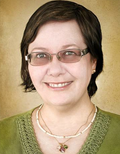 by: Carol Bryant
Twitter Strategies: Making your pawprint 140 characters at a time. Twitter is an incredibly valuable tool in the social media box of tricks but needs to be done with making every letter, digit and character count.
At BlogPaws 2012, our very own Kristin Dewey, Special Projects Manager, will be co-leading a session about Twitter and making each character count. We sat down with Kristin in these final days leading up to the yearly conference to find out what we can expect and how to make it count…in 140 characters or less.
BlogPaws: Hey Kristin, nice to have you here. You are coming to Salt Lake from Hollywood. We are psyched the conference is here and you are, too, no doubt! How many times have you been to BlogPaws?
Kristin Dewey:Once. 2011 in Virgina, but Cokie's plush stand-in also attended the BlowPaws West conference in Denver in 2010.
BlogPaws: What can folks hope to learn at your session?
Kristin: I'm teaching how to participate in Twitter pawties! (How to Pawty Like an Anipal) Pet related Twitter parties, or "pawties," are a great way to network with animal lovers around the world, raise money for animal charities, and to just let your hair down and cut loose!
We'll also have a live BlogPaws Twitter Pawty with some great prizes on June 23rd from 5:30-8:30 MT, during the Awards and closing ceremonies. Pawty staff will be seated at the "Twitter Table," where folks are free to watch what a Twitter Pawty looks like from the POV of pawty staff. A hostess will be available to teach beginners how to join in the fun.
BlogPaws: What do you most look forward to about attending?
Kristin: I'm BlogPaws' Special Project Manager, so I'll be both a host and an attendee this year, and I'm excited to be a part of making it happen! I'm thrilled to have my friends Tillman & Norman from "Who Let The Dogs Out" (and their people), and Eldad & Audrey Hagar from HopeforPaws.org at BlogPaws this year. Everyone's going to LOVE them. I'm also bringing my seven-year-old nephew from Austin, who is crazy excited about staying at a real "Hotel for Dogs!"
I'm looking forward to meeting, and re-connecting with my online friends and their pets, being inspired by passionate people, and most of all – learning things I don't even know I don't know yet!

BlogPaws: What pets share your life?
Kristin: I have one awesome, happy, talkative, (incontinent), opinionated, active 18-year-old ragdoll cat named Cokie, who wears pants! Yep. Cokie the Cat. You may have seen him online. He's often mistaken for Daniel Craig.
He blogs about life on Hollywood Blvd. and Special Needs Pets. He also has a Twitter Tips for Beginners page, were he helps other pets (and sometimes people) get started on Twitter, and hosts a Thankful Thursday blog hop.
Cokie is also a Co-Founder, writer and former Editor-in-Chief of The Anipal Times, an online newspaper written by and for animals.
Great, see you at BlogPaws. Join us there for the fun, learning, networking, brands, and of course, pets!