by Kristin Dewey, BlogPaws Special Projects Manager
Each week, BlogPaws hosts a Wordless Wednesday Blog Hop on our
website. This post will explain how blog hops work and get you ready for
Wednesday's hop. It might sound complicated at first, but
once you've done it, it's easy! Check out last week's Wordless Wednesday Blog Hop to see what we're talking about. 
Blog Hops will also be the topic of this month's Twitter #BlogPawsChat on Tuesday, September 11th from 8-10pm ET. We'll begin the Wordless Wednesday blog hop early so we can help all our Twitter pals link up during the
chat. 
Wordless Wednesday is the popular Internet
practice of posting blog photos that speak for themselves – no explanations required.
A Blog Hop is a
blog post that includes a list of links to other bloggers' posts with a common
theme; often the links include thumbnail pics. The list of links (linky list) is
shared on multiple blogs. Participants can join the hop from any blog that
shares the list.
The idea is for bloggers to click on each others' links, hopping to all the different blogs. It's a way for people with a common interest, in our case a love of animals, to find new blogs to follow, to attract new visitors to their own blogs, and to have fun looking at all the great pet pics . We're all into social media at BlogPaws, so they're great for checking out all the different blog styles and formats, too.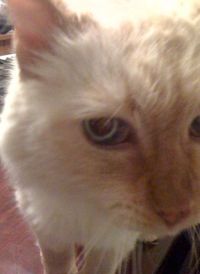 First, choose a pet photo to post on your blog.
Wordless Wednesday
photos are usually cute, funny, beautiful, quirky, sometimes sad, but they
stand on their own, without need for captions. Words don't disqualify you, just
try to keep them to a minimum if you just can't resist! (That's my cat Cokie giving you the eye.)
Publish your Wordless Wednesday blog post on your blog.If you're joining us for Tuesday's #BlogPawsChat, go ahead and publish your post on Tuesday evening before the
chat. (A few readers will be confused, but they'll get over it.) Copy the URL/address specific your Wordless Wednesday post, also
called a permalink. That's the
link you'll need to join the blog hop.
If you don't know how to find the permalink, open a new browser tab or
page. Go to your main blog page, as if you're an outside visitor. Click on the
title of your Wordless Wednesday post. A new page will open with a permalink in
the top URL/address bar. Copy that URL/address and head over to BlogPaws.com.
Once the BlogPaws Wordless Wednesday Blog Hop is up, click where it says, "You are next… Click here to enter" at the bottom of the
post. Follow the instructions on the form that opens. Your blog
should now be linked up to the blog hop. It may not show up right away, so don't
get nervous and add your blog a dozen times or it will show up a dozen times later! Blog Hop faux paw! ; ) 
Next, you want to add the code to make the list of other entries
appear on your blog. Click at the VERY bottom of the Blog Hop post where it says "Get the code here…" Copy the code. Open your Wordless Wednesday blog post so you can
edit it. Click on the HTML tab. Paste the code you copied at the very bottom of that page full of HTML code. Click update or publish. Refresh
your blog so you can see it as the public sees it, and you should see your
Wordless Wednesday post followed by a list of thumbnail links of other
entries.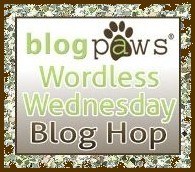 You can put our Wordless Wednesday Blog Hop
button at the top of your post, to identify it as part of the hop. Cut and
paste it and upload it into your blog post like a photo or use the code on the BlogPaws Wordless Wednesday page.
Different blog hops have different requirements. Ours is an easy 'No Rules' hop. 
To maximize your results, as with all social media, the
more you engage with others, the more people will want to engage with you,
increasing your visitors and making for more lively discussions on your own
blog.
1. This is a Blog Hop! HOP! Visit as
many of the other blogs as you can.
2. Leave comments. The more comments you leave, the more comments you get. It's the Law of Attraction or something.  ; ) 
3. If you like a
blog, follow it! Blogs usually have at least one widget that make it easy for
fans to follow them – NetworkedBlogs, Linky Followers, Facebook, Twitter… If you really like it, join their email list. 
4. Post a link to your Wordless Wednesday post on your Facebook
page, inviting your friends to join in. 
5. Tweet your link with the #WordlessWednesday hashtag, again inviting friends
to participate in the Blog Hop. 
6. Pin it, or use whatever other platforms you like to share your post and the Blog Hop.
That's it. Try it. If you're still confused, or it didn't work somehow, email me at Kristin at BlogPaws.com or come to our Twitter #BlogPawsChat on Tuesday evening and we'll try to walk you through it.
Happy hopping!