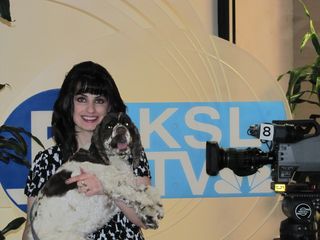 by: Carol Bryant
Many pet bloggers are experts in their respective fields: From dog health to cat behavioral issues and everything in between. Pet bloggers are a growing force, something BlogPaws has known since its inception in 2009. The media has begun to take notice and pet bloggers have viable opportunities to appear on television. Many of us are, after all, experts, and our fans, followers, and years of experience speak to this.
But getting on television and being credited as an expert in your field is for the huge bloggers, the ones with hundreds of thousands of followers, right? Well, sometimes, yes, but ANYONE with experience, credibility, and a bit of ingenuity can do it. Here's how:

Have an area of your blog where
media can visit: i.e. Media Room

Segment producers want to be sure you speak
well and are a concise, fun, informative and entertaining expert in your field. You might call this section "In the Media" or "Media Room." Without any television appearances to your credit, you can still add things to your media room. Have you done YouTube videos of product reviews? Have you been a guest speaker at any events? You can even have someone tape you doing a mock interview. Showcase your strengths. Don't um, fidget, or talk in a rapid fashion. Be yourself and let the voice of your blog come through.
Write press releases when the time is right.
Did you break a story? Have a really good scoop? Is it something that is truly newsy and would make for a good press release? Start establishing yourself as an expert and put news out there. Make news, not news releases, and keep this in mind when you write. Stay tuned for some great insider info from BlogPaws, as we have plenty of announcements to help you in this capacity coming.

But where do I get camera experience?
Volunteer to speak at a local
animal rescue eventand have a friend tape you. Be a speaker at an expo or
convention. Address your local Chamber of Commerce. There are many ways to gain media exposure and get in front of the camera for exposure and practice, which as we all know, makes perfect.
 Do you do product reviews?
Write about animal rights or
legislation? Blog about rescues? Add video to it. Record yourself. Media need
to see and hear you if you expect to be on television.
Where do you find media?
Call tv stations and ask for specific
segment producers. Get emails and/or talk to them – see what sort of pitches
they are interested. Don't blindly send pitches and hope they land in the right
hands. More than likely they won't.
Have you ever pitched a television station? Have you had success? Don't be intimated and think it cannot be done. I had my apprehensions years ago, and over a dozen appearances later, I can attest to the power of believing in yourself. Break a leg!