Guest post by Steven May
On Friday, October, 18 Steven May began his guest post on How to Choose A Veterinarian and gave us the 5 Do's for choosing a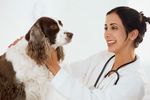 veterinarian. Today he offers his advice on the Don'ts. Because we love our pets like family it only makes sense that we would expend time and effort to make certain the care they receive is of the highest quality. 
Here are five Don'ts:
A Veterinarian Is Not A Dry Cleaner: So you move to a new town and need to find a new veterinarian. You go
online, find the one nearest to you and that's it. Now it's time to move on to
finding the closest dry cleaner. The difference is that if a shirt is damaged
you can replace the shirt. If your pet is harmed it's not so easy to replace.
While all accredited Doctors of Veterinary Medicine go through a rigorous
education process not all are created equal. Just like you wouldn't choose
"Quick & Easy Surgery" out of the phonebook because it's located around the
corner you also shouldn't base your decision solely on proximity to your
home. 
Don't Ignore Your Instincts: Let's say you've done your research, read some positive reviews or
received recommendations and have set up a visit to meet a prospective
veterinarian. When you arrive you're met with a cluttered, unprofessional
waiting room and a staff member on the phone arguing with what appears to be a
client. When you're told that your 3:00 appointment has to be pushed back to
3:45 because "Something more important came up," you might want to think twice.
Veterinary offices and hospitals are professional environments and if you don't
get that sense immediately there is a good chance the attention towards your
pet's case might be lacking as well.
Don't Underestimate Your Role: There's a reason stylists ask you how you'd like your hair cut. And the
more specifics you give the easier it makes their job and the better chance
you'll have of getting the style you want. If you're visiting a veterinarian
because you notice something abnormal in your pet's behavior or spot something
on their body that doesn't seem quite right it is your responsibility to convey
the problem to the best of your ability. Let them know when you noticed a
change, any of the symptoms that are surrounding it and if there have been any
dietary or exercise routine changes.
"I'm Not A Doctor But I Play One On TV": While the internet can be our best friend when it comes to learning about
a potential health issue with our pets it doesn't make us experts. Arguing with
an educated, experienced doctor over a diagnosis or treatment undermines the
bigger goal which is to get our pets healthy. It's important to trust our veterinarian
and remember that they're highly educated and experienced professionals. That
said, having a basic understanding of certain conditions will also show them we
are concerned about our pets' health and they will appreciate that you've taken
the time to educate yourself.
Don't Forget Your Surroundings: When there is something wrong with our pets it's easy to become
emotional. For some this leads to impatience with staff members or being overly
demanding or verbally aggressive with a doctor. So before you lose your cool
for having to wait five minutes remember that your veterinarian might have just
come from performing a euthanasia or telling another pet owner that recovery
doesn't look good. Be sensitive to your surroundings and remember that everyone
is doing their best to serve you and their animal patients. 
Summary: The great Will Rogers once said, "The best doctor in the world is a
veterinarian. They can't ask patients what is the matter – they've got to just
know." And good veterinarians learn to "know" following many years of rigorous
education, internships and, again, more learning. Committed, skilled DVM's
never stop learning and with the incredible technologies that are now available
to the animal care industry they are constantly on the cutting edge of
sophisticated testing and treatment options.
But veterinarians aren't cut out of a cookie sheet
and each will bring their own specific personalities, experiences and skills to
their work. As responsible pet owners we take care to make sure our pets are
receiving the right kind of nutritious diet, exercise and attention they need
to stay healthy and happy. And it should be no different when we are choosing a
Doctor of Veterinary Medicine.
By taking such things in to consideration as
proximity, professionalism, office organization and cleanliness, staff
helpfulness, personal recommendations and our own judgment in to someone's
character, we will be better prepared to make the right decision in choosing a
veterinarian and giving our pets the best chance for a long, happy and healthy
life.
 Follow Steven on Facebook