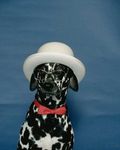 By: Carol Bryant
The team at BlogPaws is counting down and we bet you are, too. June 21 kicks of BlogPaws 2012, the conference we prepare for and plan year round. But BlogPaws is oh so much more, and we landed in the Herald Extra paper (in print and online) this weekend. 
That's nice because BlogPaws is a year-round traditional and social media company that can do these sorts of things, right? True, but the same applies to bloggers in general. You CAN get traditional media to notice you, your blog, its cause, and your message. How?

At BlogPaws conferences in the past, I've led sessions about getting your platform, business or cause covered in traditional media and breaking through e-coverage and getting covered in traditional media circles. These are the sort of things learned in person at the BlogPaws yearly conferences. Whether you are a pet blogger, parent blogger, micro blogger (like Twitter, Facebook), or just looking to get more involved with the media, this conference is priceless.These are also the sort of things shared in our online community forum.
Who is the Herald Extra? They are located in Provo, Utah and the paper is published seven times a week. Their number reach 32,000 daily, 42,000 Thursday and 36,000 Sunday. The Herald's Web site reaches approximately 450,000 unique visitors each week and 3 million per month. BlogPaws and its community of bloggers are getting noticed!
Did you know non-pet bloggers come to BlogPaws conferences? The Herald Extra interviewed Kathy Dalton for the feature piece. Check her out in the link below and read the entire article. Get excited, get ready to learn and network, it's that time of year.
Herald Extra Newspaper Coverage: BlogPaws
Sign up For BlogPaws 2012 Conference