Guest post by Blog Manager Robbi Hess
It's no secret that social media has exploded and expanded and continues to do so on an almost daily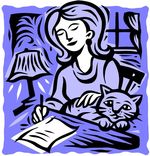 basis. Because so many people across myriad demographics spend time on Facebook, Twitter, LinkedIn, G+ and others, it only makes sense to have your voice heard, right? Of course, just make certain you're using it to your advantage and making the most of your time. If you're a pet lover and pet writer, you should also add petcentric social media sites to your repertoire – after all, you should go where your audience is.

Here are five tips to help you target your social media effectively:
 Make a plan. Sure you can simply sit down in front of the computer and start writing… that will work for today, but what about tomorrow and the day after and the day after that? Look at social media as a complete marketing plan for your pet writing – whether you're writing for fun or for profit.
Listen to what others have to say. You do want to be part of the conversation and that means listening as well as speaking. Social media is a great place for you to learn to communicate with others. Join in conversations with those in your industry and those with whom you want to connect. Social media can open virtual doors to pet influencers.
Swallow your pride (and anger). Be aware that when you're on social media you'll come across people who disagree with what you say or how you say it and will likely leave a negative comment. Don't feel you have to respond to all negative comments – let your other readers and followers come to your defense.
Numbers don't mean everything. Yes, it's great to announce, "I have 10,000 followers/friends/likes," but do those numbers mean anything if you're not having meaningful pet conversations? Not likely. Choose your followers and those you follow wisely. Make your time on social media count.
Even if you have a product or service to sell, keep the pitches to a minimum. Don't treat your social media sites as a continual source of "buy me, buy me" pitches. Treat your followers as friends and pitch to them accordingly; they'll thank you for it.
Social media should be a part of your overall marketing plan and objective, especially if you're looking to get exposure in the pet industry. Use it wisely and watch your pet influence grow!