Guest post by Blog Manager Robbi Hess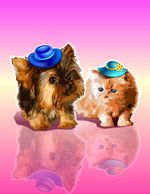 Because this week has been designated National Pet Sitters Week even though I'm celebrating it with this post at weeks' end (!) I've put together a check list for you if you're looking for a caretaker for your beloved four-legged furry family member when you leave for a family vacation. Thankfully, I've never had to leave Henrietta.
Word of mouth is the best reference any pet sitter can receive and that's where you should start your search. After you've gathered names begin making phone calls and setting up appointments with prospective pet sitters.

Here are some of the questions you will want to ask:
How long have you been in business and what got you involved in the business?
Ask for references from at least three clients.
Do you have insurance and are you bonded? 
How long will you be at my home and what will you do when you come? How will your pet be entertained, will there be belly rubs and play with favorite toys on the agenda?
What kind of pets do you own? If they don't own pets, it could be a red flag… why wouldn't a pet sitter be a pet owner?
How will you take care of my pet if she gets sick? 
Do you have any Pet CPR training? If my pet needs medication (pills or insulin shots) do you have the knowledge and skill to medicate him?
Will you leave a "journal" of what happened during the visit with my pet? 
If you get sick when you're supposed to be watching my pet do you have a back up? Can I meet him or her?
Will you come over for a pre-vacation visit so I can see how you interact with my four-legged family member? Pets are intuitive and if your pet seems skittish or hesitant to interact, you may want to interview another pet sitter.
I readily admit Henrietta has a few quirks and if you don't "know" her you will miss her signs for asking to go do "outs" which is to sit and stare at you. She is full of non verbal cues and once she has done her outside business she will come in and stare at the refrigerator because she knows that's where the carrots are and that she gets a treat. Your pet will be anxious enough with you leaving and the little routines are crucial and a good pet sitter will understand that and will keep up with those routines as a way to make the separation less stressful.
Begin your search for a pet sitter well in advance of your vacation and be aware that the best sitters get booked early.