Guest post by Blog Manager Robbi Hess
There are times when I bemoan the
fact that I don't have enough time in the day or enough time to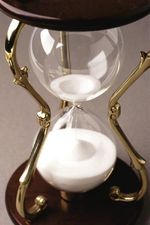 complete
Project X, Y or Z, but then I realized that rather than looking at Project X as
a HUGE project, I started looking at it as project that could break into bite
size morsels and actually complete. The idea of breaking that big project down
into smaller portions relieved a lot of stress and got me to thinking… what
could I (or you) accomplish in 15-minute chunks.
When you consider what can be done to
build the reach of your pet blogging and social media campaigns in less than 15
minutes a stretch, you will likely be even more productive than you'd ever
imagined.

Here are 15 items you could complete
in 15 minutes (or less):
Research a blog post
Take a picture for upcoming blog
posts
Outline a proposal to a site on which
you'd like to be a guest blogger
Write a blog post (yes, a post can be
written in 15 minutes!)
Write down notes on updates you want
to make to your website
Pen a paragraph for a book you want
to write
You could write five (challenge
yourself for 10) Tweets
Set the timer for 15 minutes and
update your LinkedIn, Google+ and Facebook page
Brainstorm blog ideas then put them
on your editorial calendar
Comment on three blog posts by pet bloggers
that you follow
Pick up the phone and finish an
interview with an influential pet blogger (provided you had it scheduled prior
to your 15-minute time slot)
Connect with five individuals or
businesses on Facebook, Twitter, LinkedIn or Google+
Comment on status updates of
individuals or business pages that you follow
Add to, delete from, or sign up for
Google alerts.
Dive into those to-be-read books in
your stack so you can get them reviewed and on your website.
What can you accomplish in 15
minutes?