Guest post by Dave Taylor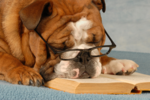 I'll start out saying that I haven't
owned a dog in a few years. I'm a cat person now and the idea of tracking my
cat's activities seems ridiculously boring: couch. bed. food. window. couch. In
about a six hour cycle. He's also an indoor cat and I know the anxiety and fear
of him bolting outside when no-one notices and being gone for hours before we
realize he's not on his customary perch but outside in the wild.
A memorable Nov 1 a while back we were
horrified to realize he'd been left outside all night, having escaped during a
visit from some trick-or-treaters the previous night. It took about an hour to
find him but find him we did, no worse for wear, and eager to sleep in our safe
little house.
I also track consumer electronics quite
closely as the editorial director of
AskDaveTaylor.com, a site where we
focus on tech support for gadgets, gizmos and technology. In fact, I attended
the huge Consumer Electronics Show a few
weeks ago in Las Vegas, with over 150,000 other industry folk, visiting with
over 3,000 vendors.
And one of the product categories that really
stood out was something that would have really helped when Newton, my cat, had
escaped the previous autumn: a GPS tracking collar for your pet. There are a
number of companies in this space, but I like
Tagg because the price is reasonable — $100
+ $8/mo — the device works for 30 days on a charge, and because it lets you do
what's called in the biz geofencing: defining a perimeter outside of which the
system will notify you if your pet leaves. Make it your backyard and you could
get a text message when Fido hops the fence to visit Miss Fifi down the road.
It's a cool idea and I would definitely
have spent $8 at the moment I realized my cat had vanished, but I think we're
in a social media world and these companies should go further. In fact, Sony
was also showing off its Action-Cam-Full-HD-Camcorder pet mount kit, that would let you record video from a camera on your dog's
back. Make it a head mount, live stream the dogs-eye-view and post the embedded
viewer on your dog's Facebook fan page.
Now imagine the cross-over between the
Tagg GPS collar, the Sony Action Cam and the full retinue of social media
capabilities and my cat could be tweeting me right now and your dog could be
sharing his 3pm view on her Pinterest "It's a Dog's World" board,
while the Doberman down the street is having a great time Instagramming faces
as he snarls fiercely at them every time he crosses that geofence. Doesn't that
sound fun?
There's really no limit to what we can do
when we merge pets, tech and social media, actually. If you could toss these
ideas together and come up with something really new and innovative, what do
you wish you could hook up to your own pet?
About: Dave Taylor has been involved with the
online world for many years, and writes about his children and cat, among other
topics, at GoFatherhood!. You can find
him on Twitter as @DaveTaylor and his cat? So far, his cat's not online. So
far.