By Carol Bryant
From blog to published book can be done, and the speakers at this year's BlogPaws know just how to show you. In our BlogPaws Speakers Series, we've interviewed several of our speakers and will continue to do so.
We kicked off our three-part "getting published" series with New York Times best-selling author of titles such as The Dog Who Knew Too Much, To Fetch a Thief, and Thereby Hangs a Tail, Spencer Quinn. Today our featured speaker interview is Penny Sansevieri,founder of Author Marketing Experts (AME), which has  has promoted authors online, getting them the publicity and media coverage they deserve for over 10 years. And Penny's got a fun secret to share…

BlogPaws: You'll be speaking in a session on Friday, June 22, at BlogPaws in Utah. Give us the low down on that, Penny (and what you hope people learn).
Penny: I hope they get a good grasp of the ins and outs of book publishing because so much is changing. The advent of eBooks has really heralded in a new and exciting era so there's much to learn. My goal is for attendees to walk away with lots of great tips and insider information that will help save them time and money down the road.
BlogPaws: This will be your fourth BlogPaws (me, too!). What makes you return time and again?
Penny: I absolutely love attending other sessions when I can. I'm always so amazed at the amazing talent at this event and always so flattered to be included.
BlogPaws: Have any pets aka furry family members?
Penny: YES! Cosmo, the most amazing dog on the planet. Actually, I think he's a little boy in a dog suit. He's a shih tzu.
(~~~insert big "awwwwwwww" here~~~)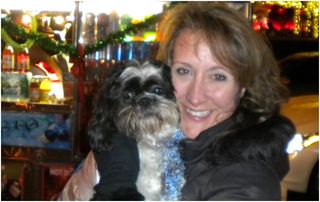 BlogPaws: Visit me at A Marketing Expert, on Facebook, On Pinterest, and on Twitter @bookgal.
Fun fact about Penny:Though born in southern California, where she went to school and still resides, Penny grew up in Belgium.  She is fluent in Flemish and French, and she says "enough to get herself into trouble."
Sign up for BlogPaws 2012 and say hello to Penny in person. See you there!