by: Carol Bryant
Bev VanZant knows how to flatten a pet. And that's a very good thing.
If you blog about pets, you have probably heard about flat pets, but in the event you haven't, are coming to BlogPaws and want to be immersed in the culture that is all things flat pet, we wanted to give you a sneak preview. And if you aren't coming to BlogPaws 2012 in Salt Lake City THIS week, remember we are a year round community and social media presence that embrace that which is flat.
BlogPaws: Hey Bev; I've seen you at every BlogPaws conference. Is this your fourth conference, like me?
Bev VanZant: Yes and I was in on the conception of BlogPaws with Yvonne and Caroline when we all first met at BlogHer 2009 in Chicago.
BlogPaws: How fun and paw-some! So what exactly is a flat pet and how did you get involved? 
Bev: A flat pet is a photographic representation of a real pet–sometimes lifesize, sometimes as a miniature version–glued to a sturdy backing with some kind of stand so that it can stand up and be noticed.
Karen Nichols and Flat Skeezix are responsible for my Flat Pet Madness. A couple of years ago, Karen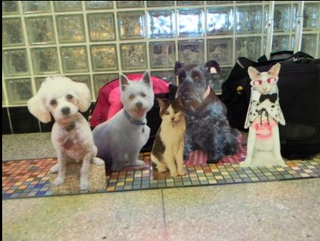 came with a group of bloggers to visit my company (Iams). That first evening, we went as a large group to a very nice restaurant. I was seated next to Karen with 6 others, and we got to talking about our pets.  When it came to Karen, she told us that she had brought one of her cats with her. Across the table from me was my boss, and I watched her eyes get huge and her face pale. We had not expected our guests to bring their pets with them as they traveled to meet with us, so we had not made any special pet arrangements at the hotel. Karen had come to the restaurant straight from the airport, and when she sat down we had all watched as she pushed a very large shoulder bag under the table. "Want to meet him?" said Karen. And she reached under the table to her bag and pulled out Flat Skeezix!  The table erupted with laughter! We laughed so hard and so loud that all conversation in the restaurant stopped and everyone looked at us. A few months later, I knew I would see Karen at BlogHer so I made my first Flat Tyler. We got some odd looks from some of the (petless) mommy bloggers, but our flat pets also helped us to connect and make friends with other pet lovers attending the conference.
BlogPaws: I understand there is a Flat Pet table at BlogPaws… tell me a bit about that and what folks can learn, see and do when interacting at the table with you.
Bev: I will be talking about and demonstrating how to make your own flat pet before and after the morning keynote at Saturday's breakfast, in the General Sessions room. We'll also talk about ways that flat pets can actually help open doors to more blog content and connectivity. This is an informal session, so feel free to drop by and ask questions. Just look for the table with all the flat pets!
And I'll have a flat pet emergency kit–so if any visiting flat pets get hurt, I'll be happy to help with first aid.
BlogPaws: Where can people learn more about you?
My first blog, My Fire Hydrant, is at www.petcarebev.com. This is a combination of my personal and professional life.
I tweet at @PetCareBev, @MyFlatPet and also @Iams.
I have a hobby photo blog, www.MyFlatPet.com where you'll find silly photos of flat pets (mostly Flat Tyler, but I welcome special guest appearances by other Flat Pets–send me photos!); Flat Tyler also has a Facebook page at https://www.facebook.com/pages/Flat-Tyler/128857657210047.
My personal Facebook page is https://www.facebook.com/bev.vanzant
BlogPaws: Just for fun, what is something about you people would be surprised to learn?
Bev: My first career was as a Stage Manager for regional opera.