E-books are a very popular
form of getting your book published. In fact, as bloggers, many of us already
have the content intact that can be turned into an e-book. But where to start
and how to promote it: Therein comes the dilemma.
At the BlogPaws 2013
Conference, Amy Shojai and Sandra Beckwith solve those dilemmas with their
breakout session, "E-books and Promotions." BlogPaws asked Sandra and
Amy what they plan to bring to BlogPaws and how they plan to educate folks in
paw-son. Here's the scoop:
Who are Sandra Beckwith and
Amy Shojai?
Sandra Beckwith is a self-employed
nonfiction writer specializing in small business topics and writing for custom
and corporate publications. She has written 3 nonfiction books and ghostwritten
3 others. In her past life, she was an award-winning publicist, so she teaches
a book publicity e-course.

Amy Shojai is an animal behavior consultant who blogs, write
columns, articles and books covering cat and dog care, hosts a radio show and
TV segment.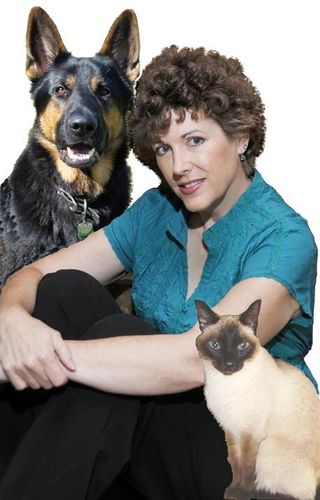 BlogPaws: Welcome aboard, ladies. How many times have you
been to BlogPaws:
Amy: This will be my first time!
Sandra:  The first for me.
BlogPaws: What can attendees of your session hope to learn?
Amy: How publishing has changed, what opportunities are available
(DIY services, etc), how to harvest blog content, leveraging E-books to build
brand, creating an E-book revenue stream.
Sandra: My plan is to talk about the key elements of book
promotion.

BlogPaws: So when folks walk away from your session, you
hope they will gain what?
Amy: Bloggers can expand their reach and increase income with E-books.
The new self-publishing platforms have been made virtually "dummy
proof" (even my cat and dog could do it…if they had thumbs!). Pet
bloggers are in a unique position to capitalize on their existing
audience/platform, and remain in control of their publishing destiny.
Sandra:
I hope to bring clarity to the subject. When you don't know much about book
promotion, it's hard to know where to begin. My goal is to de-mystify the
process and help participants understand where to put their time and energy.
BlogPaws: What
will be your favorite aspect of attending BlogPaws/what do you most anticipate
as an attendee?
Amy: I
can't wait to meet in person the bloggers I've read for so long! I feel like I
already know many folks–and their furry alter-egos–but there's nothing like
in person networking to cement friendships and establish personal and
professional relationships. My *virtual* tail is wagging and purr a-rumbling at
the thought!
Sandra: I'm
looking forward to learning from other presenters and attendees. I'm sure there
will be lots to learn!
BlogPaws:
Tell us about your pets. BlogPaws loves pets!
Amy: My GSD Magic (aka "Magical-Dawg")
will be 7 years old in July. My Seren(dipity) is a 16-year-old Siamese wannabe
who kicks Magic's furry ass-ets on a daily/sometimes hourly basis.
Sandra: I
love animals, but because I don't have pets, I spend time with my friends'
dogs. It's a nice compromise.
BlogPaws: Just
for fun, what is something about you people would be surprised to learn?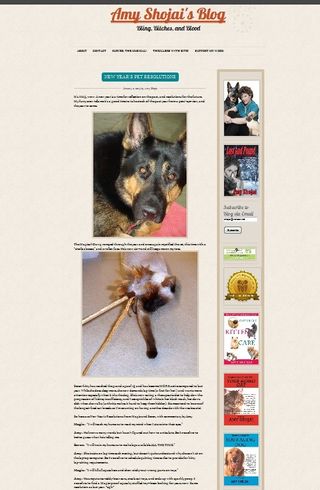 Amy: I
have a double major in music/theater performance and write/perform music and
plays.
Sandra: I
was prom queen my senior year of high school.
BlogPaws:
Where can folks learn more about you and follow along with your presence
online?
Amy:
Blog: http://amyshojai.com
Amy Shojai's Bling, Bitches & Blood
Twitter:  @amyshojai  and
@About_Puppies
Facebook: http://www.facebook.com/AmyShojai.CABC
and http://www.facebook.com/amy.shojai
Websites: http://www.Shojai.com
and http://about.Puppies.com
Sandra:
Website: http://buildbookbuzz.com,
blog: http://buildbookbuzz.com/blog
Connect on Twitter, Google+, LinkedIn, and Facebook.

Ready to take your blog to the next level or learn how to
get started? BlogPaws 2013 Registration is in full swing. Join us May 16-18 in
Tyson's Corner, Virginia. BlogPaws is a pet-friendly 3-day life changing
conference! Register for BlogPaws 2013 here.
P.S. You will have access to a variety of "tracks,"
including 101 for Beginners, 201 for Intermediate level, and even a Pro Level
for seasoned bloggers who want to take their blogging and goals to the next
level. An exclusive 4th track will cover a variety of topics from
Law to Lifestyle to Be the Change for Animals