By Tom Collins (dispatched from Global Pet Expo)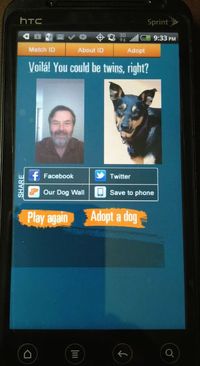 [Preview of next week's Freebie: If you've been paying attention to the BlogPaws @ Global Pet Expo team's dispatches, you may have noticed the 15 second Tout.com video clips we posted, via a new tool that Michelle Maskaly (My Tail Hurts from Wagging So Much) introduced to us on arrival. Feel free to join Tout and follow BlogPaws, so we can give it a workout next week!]
This one's mostly for fun, though it has a serious message behind it. The Best Friends My Dog ID app lets you take a picture of yourself (or another victim a friend) and then it automatically matches you with your look alike adoptable dog!
The app enables you to post the resulting image to your Twitter or Facebook accounts, upload it to their wall, or save it to your phone.
Then to the serious part, you can click the Adopt a Dog button and a built in Petfinder tool lets you search by size, gender, and age for a dog near your zip code. When I tested it, the first two dogs listed were Pit Bull Terriers from the Colorado Pit Bull Rescue group and Longmont Humane Society (where our own Chester and Emily came through).
So go have some fun — and maybe get serious, too!