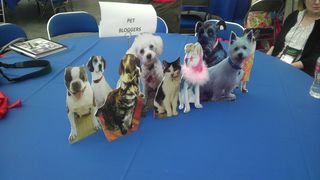 Caroline here. Yvonne and Tom are livin' large at BlogHer in San Diego this weekend. I'm totally envious about this for many reasons but the biggest reason is that I would love to see the looks on people's faces when they see this group of Flat Pets moseying around the conference.
What's a Flat Pet, you say? A Flat Pet is a cut out photo of your pet, mounted on foam core with a little easel on back so your Flat Pet can stand upright and see everything going on around him. Flat Pets are perfect traveling companions because they are easy to transport, don't cost anything extra to fly and are allowed virtually everywhere. Plus, they're hilarious (at least I think so) and Flat Pet adventures and photos make great blog fodder. Just sayin'.
If you want to learn how to create a Flat Pet, don't miss Bev Van Zant's session at BlogPaws 2011, where she'll teach you how
to create your own. Bev is the creator and blogger at Flat Tyler so she is the gal we want leading this session! AND the first 10 people who RSVP to me – caroline (at) blogpaws (dot) com – will be able to make their very own Flat Pet in the session. That's right, we'll actually be making 10 flat pets while the class observes. It's going to be awesome.
But back to BlogHer….there's a really nice contingent of the BlogPaws community in attendance and that alone would be worth the trip. But alas, the timing wasn't good for me so here I sit on my couch, getting fun photos emailed to me. Sigh.
Meanwhile…Tom and Yvonne are accompanied by Flat Wibby Wabby, Flat Chester, Flat Emily and Flat Olive. They could have at least taken a Flat Caroline, don't you think?