by: Carol Bryant, BlogPaws PR & Marketing Manager
It seems that social media ebbs and flows and updates IRL
(in real time). Bloggers and microbloggers who are dealing with fans,
followers, and readers on a daily basis need stay current on changes so their
social media plans can adjust to any updates.
Here are five things happening on Facebook in the ebb and
flow of social media:

1. Facebook is working on incorporating the hashtag, one of
Twitter's most notable tools, into its service by using the symbol as a way to
group conversations.
According to an article in the online version of The
Wall Street Journal, "Facebook
is testing whether to follow Twitter's lead and allow users to click on a
hashtag to pull up all posts about similar topics or events so it can quickly
index conversations around trending topics and build those conversations up"
2. Facebook has resigned its news feed. If you haven't been
affected yet, there are even more visual changes planned.  Here's a Facebook short video about the redesign
and what you need to know as changes roll out:
3. Getting shares is not as difficult as one might think.
Shares are to Facebook what retweets are to Twitter. Facebook guru, Mari Smith,
recently released this infographic that is concise, consolidated, and chockfull
of actionable things you can do now to increase the likelihood that your
Facebook posts will be shared. Here's a sample but you  can download a PDF version of the infographic here.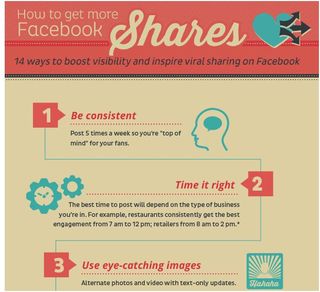 4. Graph
search is here.  If you don't have
Graph Search as a part of your Facebook homepage, you can sign up for the beta version. Graph Search
is available now in a very limited beta program for English (US) audiences.
In a press conference held by CEO Mark Zuckerberg, he
reported, "That means that it only searches content which has been shared
with you and that your search results will differ from the search results
someone else will see … even if you enter the same exact queries."
5. Contests have changed and are legal, if you use proper
third-party apps. I love contests and if used properly, they can create buzz
for your blog and hopefully, repeat traffic. I only use contests and giveaways
if they make sense for both me and my readers. I also have to believe in the
product/service I am promoting. With ethics in tow, if you are into contests
and giveaways, there is a great infographic available on the topic. I noticed a
jump in my recent Facebook numbers thanks to a third-party app I incorporated
onto my Facebook page in conjunction with my recent blog contest.

Socially Stacked has a great infographic as a point of
reference for what you need to know about running a Facebook
contest or giveaway.

Learn social media tips, information and how to up your skill set and more at the 5th BlogPaws Conference in Tysons Corner, Virginia, May 16-18: Register for BlogPaws Here