Guest post by Dayna Hilton
October
was Fire Safety Month, but the Fire Safety Dogs love sharing fire safety every
day! According to the National Fire Protection
Association, in 2011, on average, a
fire department responded to:
A fire every 23 seconds
A structure fire every 65 seconds
An outside fire every 46 seconds
And a vehicle fire every 144 seconds
Fire claimed nine lives every day

Your home
can become engulfed in as little as three minutes. Here are our top two tips
for helping keep you and your pets safe: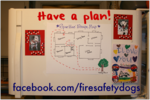 ESCAPE PLANNING – Imagine a fire burning in your
home, with your family fast asleep. Smoke and heat intensify quickly. Every
second counts. How will everyone escape? Without a plan, you may not know the
best route to safety.
Create an escape plan and make
sure everyone in your home practices it. Plan two routes of escape from every
room, and designate a meeting place outside of the home. Remember: get out and
stay out!
SMOKE ALARMS – If a fire breaks out in your home while you're asleep, how will you know?  Smoke and

heat build quickly, making every second count.A working smoke alarm can alert you to the danger and make the difference between life and death. Install and maintain a smoke alarm on every level of your home. Replace the battery every year. 
By having a plan and knowing what to do, you
can help keep you, your family and your pets safe!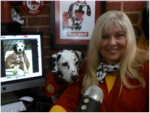 ABOUT
THE FIRE SAFETY DOGS - Learning
about fire safety can be fun when you learn it with the Fire
Safety Dogs! Tango,
Siren and Molly are not only members of their local fire department, but
mascots for the Keep Kids Fire Safe Foundation. They love helping keep children,
pet parents and their furkids safe! With
educationally sound programming, the Fire Safety Dogs have been helping reduce
fire related deaths and injuries for almost ten years. With nine "saves"
(helping save the lives of seven children and 2 adults in actual fire related
situations), the dogs have quite the experience under their collars.
SPARKLES' SAFETY SPOT - The Sparkles'
Safety Spot program helps children learn basic fire safety knowledge and
skills with the goals of saving lives, limiting injuries, and reducing fire
losses. Firefighter Dayna and her team of Fire Safety Dogs share fun, yet
educationally sound, ways to stay safe, live on the web. 
Teachers, students and parents tune in to this weekly 15-minute live streaming
program where fire safety tips are disseminated in a fun format for children.
The program includes special appearances by safety friends of the two and
four-legged type and provides free, downloadable supplementary safety materials
for teachers and parents
The program is streamed live on the web every Friday morning from Sparkles'
Clubhouse as well as on the road when Firefighter Dayna and/or the Fire Safety
Dogs travel.
Sparkles' Safety Spot is the only weekly interactive fire safety program on the web and the
recent 60th episode was ranked #11 of most watched shows on
stickam.com. You and your furfriend can chat with them live and ask questions
about fire safety and the Fire Safety Dogs. Perfect for the boys and girls in
your life!  Children
and their caregivers can join the chat and have fun learning at the same time.
You can
watch Sparkles' Safety Spot at http://www.firesafetydogs.com.
SPARKLES'
FIRE SAFETY SKYPE TOUR - The Fire Safety Dogs and the Keep Kids Fire Safe Foundation seek
participants for an innovative fire safety series, Sparkles' Fire Safety Skype Tour. This free, interactive Skype
activity teaches children important fire safety lessons and is open to schools,
organizations and library programs across the country. 
The 30-minute program is designed to teach basic
fire safety skills and features the Fire Safety Dogs, sing-a-longs, the reading
of a fire safety book and the opportunity for children to become Junior
Firefighters. Participating schools and organizations will receive a free,
downloadable copy of the Sparkles' Fire
Safety Skype Tour coloring e-book and bonus materials.
MOLLY – The
newest "recruit" to the fire safety team, is 17 week old, Molly. Molly is
learning all the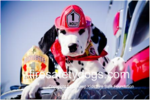 ropes and loves helping her big brothers keep everyone safe!
NEW! - The Fire Safety Dogs recently
started another new webpage at www.firesafetydogs.com and Facebook page at www.facebook.com/firesafetydogs. They are always adding new
photos, videos, free downloadable materials and more on their pages. They would
LOVE to have you as a friend! Follow the adventures of the Fire Safety Dogs on Facebook! They
would love to be friends! Lots of fun and free downloadable fire safety
materials to help keep you, your pets and your family safe.