Guest post by Pamela Douglas Webster
How will you ever find the time to be
fabulous? Y'know, an amazing blogger, a caring family member,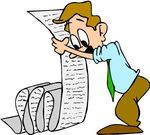 good friend,
social media wizard, and responsible pet parent? Here's good news. You're
already fabulous. And the fact that you worry you're not getting enough done is proof of your fabulousness! I know. You don't feel fabulous. You feel
guilty, stressed, and overwhelmed by having too much to do and not enough time
to do it. But before you buy another organizer or sign up for a class on
time management, take a deep breath. Look back at what you've done this past
week, month, or year. Pretty amazing, isn't it?

Now that you're no longer hyperventilating,
here are a few more tips to help you get more done in your day:
Stop doing stuff. No one can do everything. Do
you think Hillary Clinton still answers every email? No way. So make a
"not to do" list of all the things you do out of a sense of obligation or
guilt. Then, stop doing them.
Tame drift. Ok, you need to promote your
blog posts on Facebook and Tweet your latest giveaway. But do you need to
watch yet one more Gangam Style parody? Probably not. Set a timer when you
do social media tasks. When the alarm goes off, turn on your social
media blocker until you have another
social media task to do.
Do difficult tasks when you're at your best. If you're a morning glory,
do challenging tasks when you first get up. When you're drowsy in the
mid-afternoon or evening, do things that don't test your brain so much.
You'll work more effectively and can do "busy work" when you have lower
reserves.
Take regular breaks. When you're facing a tight
deadline, it's hard to make yourself stop. But what happens? You find
yourself making mistakes and working slower anyway. Get up from the
computer. Play with your cat, walk the dog, or go pick some dandelions for
the rabbit. Your animal buddy will love you for it and you'll return to
work more productive than you were before.
You'll find other tips and lots of support at
the BlogPaws Community Group: Making
Time to Blog. 
There you'll learn that those other fabulous
bloggers you admire and envy for doing so much are feeling as busy as you are.
Which will make you feel just a little more fabulous. And isn't that much
better (and more productive) than wallowing in guilt?
Pamela Douglas Webster presented Making Time to Blog at BlogPaws 2012. She blogs at Something
Wagging This Way Comes, is preparing to relaunch her first
time home buyer blog, Hands on Homebuyer,
and works as a Home Buyer Educator. She never feels she has enough time.