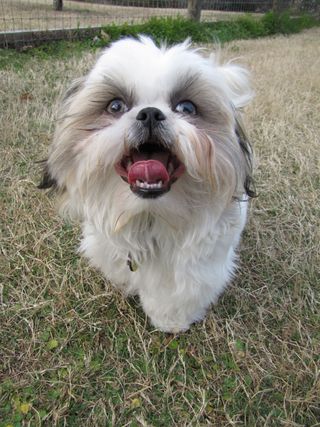 by: Carol Bryant
With under one month to go before BlogPaws 2012 takes flight in Salt Lake City, we'd like to announce the answers to some of the most frequently asked questions we've been receiving at the BlogPaws offices.
Wondering what to wear? What the policy is on bringing pets (wag with us, it's spectacular), and where to learn more? Read on, we've got you covered.

Will you be doing any Twitter chats so we can learn more and ask questions? Yes; we'll have one or two pre-conference Twitter chats before the conference so you can ask whatever you want!
Where can I learn more about the BlogPaws speakers? Be sure to check out our BlogPaws Speaker Series for the inside scoop on the speakers. 
Can pets come and where are they allowed? Yes, we love the non-human variety and pets are welcome. Animals are allowed everywhere in the hotel except for the public food outlets – Starbucks, the bar and restaurant.  However, they are welcome in ALL the BlogPaws rooms, including the meal room and the evening functions! There are always 'talkers" at the event, so no worries!!
What is the attire for BlogPaws in general? Are jeans and/or shorts acceptable? We say business casual, but anything is acceptable. You can come in their pjs if they want! Ok, we recommend business casual, especially to be taken seriously by the brands, but jeans/shorts are fine.
What is the attire for the red carpet awards on Saturday night? Officially we would love people to dress up, but it's not required. BlogPaws staff will be dressed up.
I want to come to BlogPaws but I'm not sure it's for me? Who should come to BlogPaws? BlogPaws is a media company and online community site for pet bloggers, pet enthusiasts, pet people on Twitter and Facebook and brands eager to tap into a growing, vibrant, vocal community of serious writers, bloggers, tweeters.
I'm nervous about what to say and have pre-conference jitters. Help! Breathe in, breathe out, we have the pre-conference jitters tips and cure!
Does BlogPaws give back? In three conferences, we've been able to donate $35,000 in dollars and pet products to rescues and shelters. Additionally, we are committed to supporting bloggers and pet enthusiasts everywhere, and brands that embrace our Be the Change for Pets channel. BlogPaws supports many efforts across the web that help pets in need, that work to bring attention to issues surrounding animal welfare and to show the world that "pets are people, too!" We <3 all pets and pet people!
What about entertainment and things to do in the hotel? A conference can be very busy (and fun), especially when it's BlogPaws! You and your pet can participate in some jeans-tested yoga  this June! Also, Dogster/Catster present Indy folk/pop star, Sarah Donner! The Nose-to-Nose pet blogger awards are on Saturday night, June 23, too!
What food is available? Thursday reception will have a buffet style meal, Friday/Saturday morning has breakfast, Friday is plated lunch, Friday evening is light appetizers (Friday night is out on your own), Saturday is buffet lunch and hors d'oeuvres for the pawty, but enough for people to feel fed. There will be food for receptions on Thursday and Saturday.
Does my full conference pass include the red carpet Nose-to-Nose pet blogger awards, too? The awards ceremony is definitely a part of the conference, and if you have a full conference pass you are invited to the event (Saturday night, June 23).
When BlogPaws the conference is over, how can I stay involved? BlogPaws is a 24/7, 365 social media company and interactive community that also hosts a yearly conference. Stay connected, stay tuned, and stay in touch.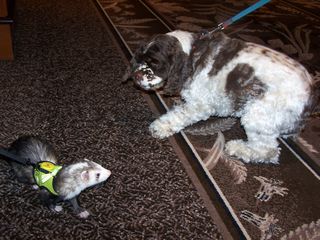 Do we get freebies, swag, or shirts?  Swag and freebies galore, and yes, we have an official t-shirt! Have you seen the cat with a mom who "glos" as winner of our BlogPaws 2012 t-shirt contest? 
What have people said about BlogPaws in the past? Is this really the fourth conference? Oh yes! See what past attendees have said here.
Are there any contests happening during BlogPaws! Yes, and you need not be a professional to enter – we want to see all photos! Learn about the fun photo contest here.
Are there any group tours or things planned at night? Working on that now, keep checking back. 
Is anyone talking about BlogPaws where I can join in, ask questions, and get to know some folks ahead of time? Absolutely! Join the BlogPaws community for free! Did you know our private message community is growing and it's FREE??? Simply sign up and start chatting with fellow pet lovers like yourself.
Where is the schedule/agenda located? Program is here.
If I haven't signed up yet, is there still time? Yes! Join us here.
What else is there to do in Salt Lake City? We are blogging all about it in these posts: 
What do I blog about once I get home? We've got that covered, too, with 50 ideas here, just print and bring it with you to BlogPaws. Jot things down as they occur!
What exactly am I getting for the cost of a pass to BlogPaws? We're glad you asked. Here's what your price of admission gets you.
Are there any special events being held prior to BlogPaws I need to know about? Kenn Bell, creator and executive producer of video series and website, Dog Files, and the Animal Planet special, Hero Dogs of 9/11, will host a three-hour master class at BlogPaws 2012 on Thursday, June 21, 2012 from 2 p.m. to 5 p.m. Hurry, limited seating!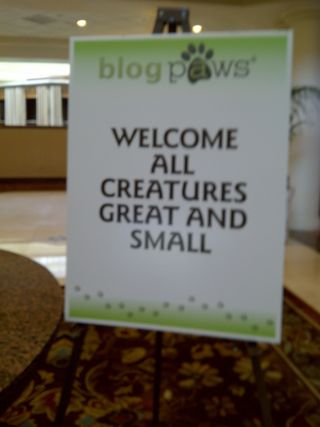 Can anyone come to the veterinary-themed sessions or are they for vets only? BlogPaws has a few vet world oriented sessions on Saturday, June 23, and all are welcome. These sessions are not just for veterinarians, but for the anyone who registers and attends BlogPaws. Woot! Be sure to check out "Conversations to Have With Your Vet," session being conducted by Dr. Terry Warren and author of one of the most well-read syndicated pet columns in the country ("My Pet World"), Chicago's own, Steve Dale. 
Will there be any celebri-dogs there? Guinness World Record "Fastest Skateboarding Dog," Tillman, and television's famed "Super Scooter Dog," Norman, will kick off BlogPaws 2012.
Is that all I need to know? Nope, we have many surprises in store. Watch for announcements and in-person goodies galore!
More about BlogPaws and to register for in-person: BlogPaws 2012 registration