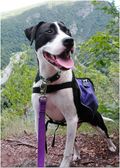 by: Carol Bryant
Facebook
is ebbing, flowing, and changing, and as soon as we get accustomed to the look,
feel, and flow of Facebook, it happens: More changes!
As
a blogger, I am active in social media so my daily pursuits take me to
Facebook. Here are a few quick tips and tricks I've learned along the way to
make your life and Facebook goals much more attainable:

Shrink
those links! If you have a Twitter account, you already know all about bit.ly
or owl.ly/link shorteners. The same holds true for Facebook. The beauty of bit.ly is that the account is free, you can
shorten your link and have a cleaner process as a result. No one likes seeing
those long-winded bulky URLs clogging up their wall anyways.  In addition, you can save and share your
favorite links from around the Web. After you sign up
for a free account you will see the option to paste a link in the top right
corner of your page.
Master
Your Own Bit.ly Domain: Want a custom bit.ly URL but not sure where to start or
what that even means? The bit.ly Pro service, which lets organizations set up
custom short domains, recently allowed free pro accounts. According to their
website, "every bitly user can set up a custom short domain from within
their bitly account settings, free of charge and with no waiting period."CMS
Newwire reports that "URL shorteners aren't used to only to save space —
they're used to track and extend their brands and key messages across platforms."
As
a blogger, this means you can make yoru own custom link shortener. I recently
did this for my Fidose of Reality blog and garnered the "Fidose" URL shortener.
 I have the ability to shrink long web

addresses so I can share them and track them and use a vanity URL, too.
Media
Bistro has a nice primer and how to blog post on why and how to get your own
customer URL shortener. They say, "You must own your own shortened domain in
order to use this service. If you do, all you need to do is point it to the
Bit.ly servers and hook it up to your Bit.ly account at http://bitly.com/a/account. Bit.ly
recommends you take a loot at domai.nr and 101domain to register your own
shortened URL if you're interested."
You
can read the entire Media
Bistro article here.
Some
examples of custom Bit.ly URL shortened links:
The
short domain for The New York Times is "nyti.ms".
The
short domain for Tech Crunch is "tcrn.ch".
It
took me 10 minutes to set up and get to using it. Further help can be found at bit.ly's help section.
A
final tip: When on Facebook and you post a link into a post, did you know once
the link shows up in the status box, you can actually get rid of the URL.
So
this: (notice the URL is gone in the status update)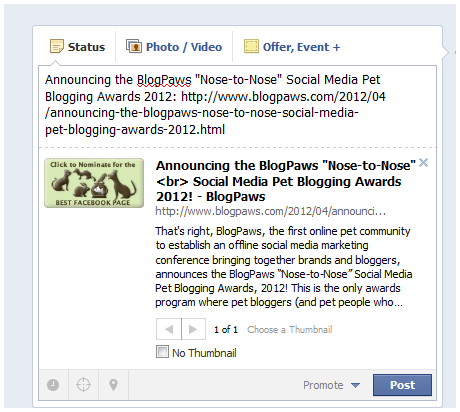 Becomes This:
If you use bit.ly or bit.ly PRO and have created a free custom URL, what is yours?