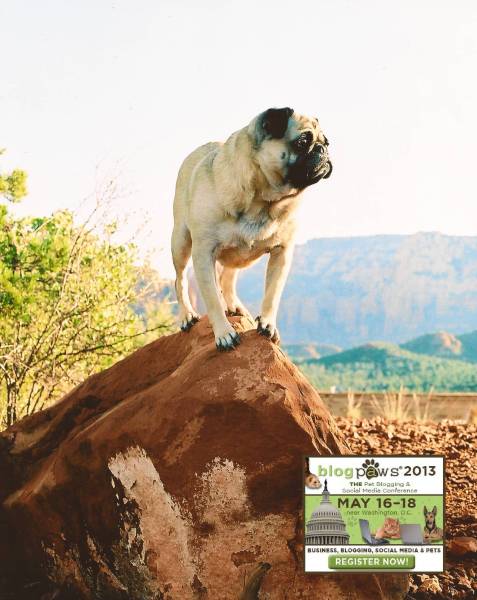 Here is what Vinny the Pug's dad had to say about this picture: "Upon his departure, I reached the end of my 12-1/2 year quest to record the growth and development of Vincent Thomas Pug. This is a never before published picture of Vinny taken during a climbing expedition of Sedona, Arizona. It is one of the rare photographs you'll ever see of Vinny without his climbing harness. As you can imagine, Vinny's image library contains several thousand pictures reflecting his growth and development. I hope to see you at "BlogPaws 2013″."
– Allen Kimble &"Vinny the Pug" 4-Ever!
Allen is one of our speakers this year at BlogPaws. His session is called NO-KILL 2020, Vinny the Pug's Phase 2, Train and Equipt Pet Rescues. You can read all about his session and all of the other amazing sessions by visiting the BlogPaws 2013 Speakers Page
It is time for BlogPaws Wordless Wednesday blog hop! As we countdown to BlogPaws 2013 Conference (which takes place in mid May – woot! ) – we encourage you to make new connections, find followers, join in the blog hop, and grow your blog.

Visit and leave comments on other blogs to make some new buddies and
maybe some new followers.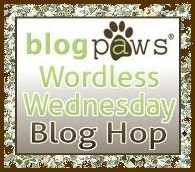 You can add the BlogPaws Blog Hop button to your post and/or to your
blog sidebar, either by cutting and pasting the image or using the HTML
code above.
Need help? Here it is: How to Join a Blog Hop – BlogPaws Tutorial
Featured Wordless Wednesday photos are randomly chosen each week from photos posted by BlogPaws Community members. Please do not email your photos. If you're not a member, you can join us here: BlogPaws Community Center. It only takes a tail wag time out of your day (or night).
If you aren't already a member, there's no better time to
join the BlogPaws
Online Community! It's fast and it's free. And of course, there's the
BlogPaws 2013 Conference in Tysons Corner, VA. Join us!!!