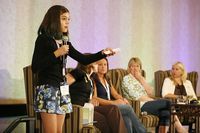 UPDATE 12:
We're only 5 weeks out, folks! That's just 33 days, according to my calendar. (I counted each one!) Our T-shirt contest for our community members to design the Official BlogPaws T-Shirt ends on Friday, July 29th, so get your entries in or nudge your favorite designer to get theirs in. We have some FANTASTIC entries already!
The app is in production, OMG! Get your Smart Phones ready!
Did you register and let Caroline know you want to attend the Mike Arms session? There are only a few seats left for that workshop. You MUST be registered first!
Our community is closing in on 500! Can I hear a big cheer?
NOTE: When you join, you must share more than your name. We need a blog or website URL. We need a little more information to qualify you as a community member. We have over 20 'people' who sound promising but without a link with more information, I cannot click the 'approve' button. (signing up for the newsletter is NOT the same as joining the community)
AND…COMING SOON: Big Doings for Friday nite! EVERYONE will want to be at BlogPaws for this! Oh, I wish I could tell you now…but, you'll have to wait for the next update. (I meant to rhyme that… really, I did! BOL!)
This is Yvonne, over and out.