BlogPaws
is hitting the media circuit and our members are showcasing the hottest and
most unique gifts to give (and receive) for pets this holiday season.
In
honor of the BlogPaws' Holiday Gift Guide, Chloe DiVita, Carol Bryant, and Dr.
Jessica Vogelsang (Dr.V), have all appeared on television in the last few days
to chat up products for pets. Pet bloggers are a force with which to be
reckoned, as BlogPaws has known since its formation in 2009.  Many BlogPaws' community members have very
active blogs and are considered influencers in the pet industry.
We
encourage all bloggers and micro-bloggers of pets to join the BlogPaws
community and make your voice heard. Meantime, here are some snippets and
behind-the-scenes of Chloe, Carol, and Dr. V in action: (we'll have video clips
of all three, but for now, check this out!):
BlogPaws' COE, Chloe DiVita, was on FOX 31 Denver this week
dishing the very latest and greatest pet products with the BlogPaws Holiday
Gift Guide. Her pooch, Twiggy, joined in. Did you see? We'll have video soon,
but here's a still from the set: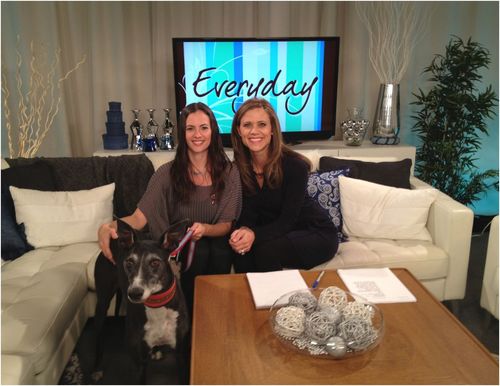 BlogPaws' PR Manager, Carol Bryant, was on The Pet Stop with
Dr. Brian Voynick on News12 New Jersey and the segment aired this weekend.
Featuring products from the BlogPaws Holiday Gift Guide, her sidekick, Dexter,
and  his pal, Holly, get ready for
taping:
Finally, Dr. V appeared on Fox 5 San Diego to dish doggie
products from the BlogPaws Holiday Gift Guide, along with some fur-ends! Here
is her clip: http://fox5sandiego.com/2012/12/06/lifestyle-expert-shares-holiday-wish-lish-for-dogs/#axzz2EE5QwROs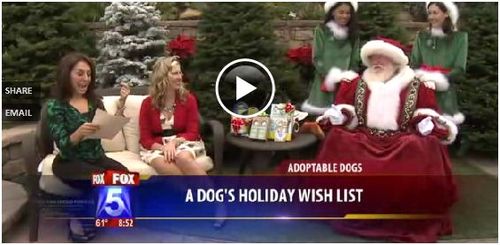 Are you shopping
for your pets for the holidays? What's under your tree?