by: Carol Bryant, BlogPaws' PR Manager
BlogPaws recently announced our second keynote speaker, social media pioneer, Clara Shih. Shih joins our other keynote speaker, Steve Dale, CABC (certified animal behavior consultant), who reaches more pet owners than any other pet journalist in America. You can follow all of our speaker announcements, as they are available on the BlogPaws speaker page.(bookmark it now)
Clara Shih's bio and resume is impressive to the max. Here at BlogPaws we like to get to know the person behind the persona and why they are interested in addressing the biggest, most influential group of pet bloggers and microbloggers at the BlogPaws conferences. I had the opportunity to interview Clara and ask her a few questions that the inquiring minds of pet bloggers want to know. Here's the scoop:
Clara Shih is the CEO and Founder of Hearsay Social and a
pioneer in social media. In 2007, Clara developed the first social business
application, called Faceforce, and subsequently authored the New York
Times-featured bestseller, The Facebook Era: Tapping
Online Social Networks to Market, Sell and Innovate, now used as a
marketing textbook at Harvard Business School.
Carol Bryant for BlogPaws: In your keynote message, you will be addressing primarily pet bloggers and
microbloggers. What can attendees look forward to hearing from your keynote?
Clara Shih: We are seeing a seismic shift in communication
– spanning everything from personal relationships to business to consumer.
 For many, the relationship with their pets is a significant part of their
lives – in San Francisco, more people have dogs than have children (we even
allow dogs in our offices).  Social media is a wonderful way to find more
information and connect with others who have pets.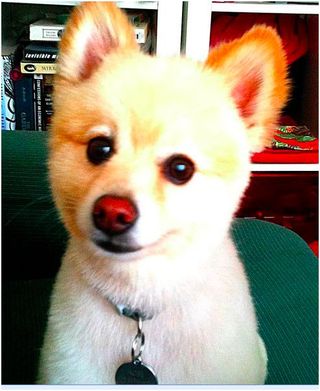 Kobe, a Pomeranian Mix, that Shih pet sits from time to time
BlogPaws: We love that dogs are allowed in your offices, just like ours! What do you most look
forward to in attending the original social media conference for pet bloggers
and microbloggers?
Clara Shih: Social networks offer a very lighthearted
medium for sharing photos, videos, and stories — gearing this towards your pet
is no different.  I look forward to seeing all the creative ways that
people represent their pets online and how social media can help foster
relationships between like-minded people.  
BlogPaws: We love pets and so does our community! Do you have pets and if so, who are they?
Clara Shih: I don't have pets, but I'm proud to say I've pet sat for many of my
friends and colleagues.  I'm even the godmother to my friend's cat. 

Remy, a domestic shorthair cat that Shih to which Shih is godmother
BlogPaws: Just for fun, what is
something about you people would be surprised to learn?
Clara Shih: After not watching tv for 15 years, I've become
completely addicted to Downton Abbey.
In case you are wondering who should attend BlogPaws Conferences or Events:
BlogPaws conferences deliver educational sessions on topics ranging
from finding content for your blog, to search engine optimization (SEO),
to turning your blog into a business or a book, to holding a marketing
or fund raising event on Twitter (we call it a #BlogPawty), to using
specialized contest apps on Facebook, how-tos on Google+, Pinterest,
Tout.com, and much more. While a majority of the attendees publish about
— or in some cases AS their pets — the topics apply broadly to anyone who wants to learn more about effective use of social media.
In May of 2013,
BlogPaws will host its fifth annual conference in Tyson's Corner, Virginia,
located on the Washington D.C. border. BlogPaws is a pet-friendly event that
has made its mark in Ohio, Colorado, Virginia, and Utah thus far. Registration
is open and the founders expect another record crowd for the event: May 16-18,
2013. http://registration.blogpaws.com.