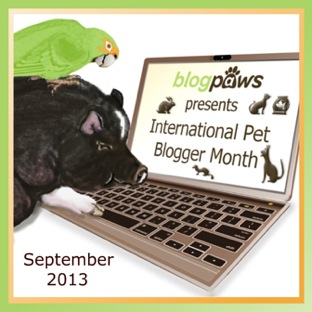 by: Carol Bryant
Did you ever wish that there was a day or week dedicated
solely to Pet Bloggers? Wish no more, as BlogPaws Presents: International Pet
Bloggers Month throughout all of September!!! Our time has come, as pet
bloggers are a force with which to be reckoned!!!
BlogPaws, the internet's premier community for pet bloggers
and microbloggers, celebrates Pet Blogging 24/7/365, but we're upping the bar
in September. We'll be revealing a Pet Blogger Opportunity Network call-in
line, photo contest for some super swag, BlogPaws or Bust to win a trip to the
BlogPaws Conference, blog hop, special Twitter chats, spotlight of our members
and much, much more.  Many surprises will be revealed all month long! Read on …

We know what pet parents want: We, the pet bloggers, are
hands on with our pets, the products they use, and share our opinions,
research, and blog posts to help others become better, more well-informed pet
parents. Isn't it time an entire month is dedicated to the art and craft of pet
blogging? Rejoice with us friends, as BlogPaws Presents: International Pet
Blogger Month throughout September!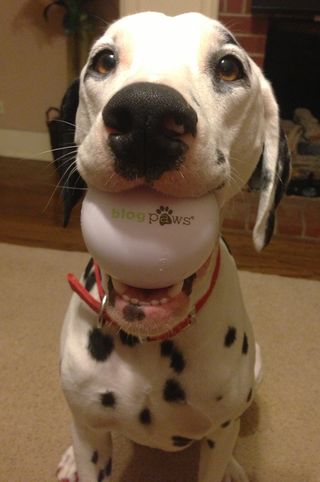 Some of the things you can look forward to throughout September 2013 as part of BlogPaws Presents: International Pet
Blogger Month:
Photo contest: Featuring a photo of you and/or your pet in the process of blogging or microblogging (i.e. Facebook, Twitter, etc) – for mega prizes and surprises; this is one contest you don't want to miss!
BlogPaws or Bust Contest to win a free trip with flight and hotel accommodations to the BlogPaws 2014 conference at Lake Las Vegas taking place May 8 – May 10, 2014. We are a pet-friendly/pet-welcoming conference!
Spotlight bloggers and pets
Pet Blogger Month-Long Blog Hop for Prizes
Twitter chats most Tuesday evenings throughout September from 8 to 10 pm est using hashtag #BlogPawsChat
Dedicated posts and how to posts to help you become a better blogger or microblogger
BlogPaws Community chat hosted by PR and Marketing Manager, Carol Bryant, and Blogger Outreach and
Communications Manager, Felissa Elfenbein.
More videos and tutorials to utilize in conjunction with your blogging pursuits
Surprises and goodies on Facebook all month long
Dedicated Pet Blogger Network hotline with call-in hours hosted by Felissa Elfeinbein to answer any questions you have as you work on your BlogPaws PBN monetizing and network goals
More surprises and pop up quizzes and games throughout the entire month
BlogPaws is the first, original social media conference and community to begin promoting pet health and welfare via social media, and
the first to start a conference online for our pet parents.

Don't forget early bird pricing for the BlogPaws 2014 Conference ends October 31, 2013, so take advantage of the special pricing.
Shaping social media excellence, influence and education one amazing pet parent at a time.
Vision Statement

BlogPaws empowers pet parenting bloggers & social media advocates
to amplify their voices, expand their influence, and generate economic
opportunity, while supporting fellow members efforts to give back to the
pets we love so much.
1.

   


BlogPaws is about you. We are the most valued and trusted pet community
online, sharing new technology, enabling strong personal relationships,
and promoting members' ideas through videos, pictures and writings.
2.

   


We amplify our members' voices, across all social media channels. Every
year, we introduce new educational opportunities in the latest
technology, writing, business and advocacy, taught by outstanding
educators focused on supporting our members in their personal endeavors.
3.

   


We take the worry out of making money online! Being a part of the
BlogPaws community and network will maximize your income by giving you a
chance to participate in paid programs and marketing campaigns where we
do the heavy lifting – all you have to do is what you do best: share
and participate in being online for pets.