Announcement by Guest Blogger, Chloe DiVita
Yup! That's right. BlogPaws 2012 sponsor Natural Balance is bringing Tillman, the World's most famous dog, and Norman, the scooter dog, to Salt Lake City! Woot Woot!
Not only will they be there, but they are kicking off the conference on Thursday evening! Talk about a pre-pawty! BlogPaws is so excited to meet Tillman and Norman that we might just be too star struck to speak!! We are so excited we are overusing exclamation points!! (not recommended)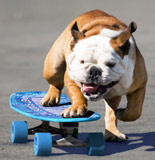 If you are not already planning to arrive in SLC in time to be a part of Kenn Bell's video workshop, you definitelly need to be there in time to watch Tillman and Norman start the memorable weekend with a demonstration of their special talents. Maybe you've had the opportunity to see their talents on the Animal Planet Series "Who Let The Dogs Out?" The season finale was this morning so if you missed it, don't fret. Nothing compares to an in person performance, which is exactly what you will get in SLC at BlogPaws 2012!
Not to mention Tillman and Norman will hanging out for the whole conference so there are no excuses to leave without getting your picture taken with them both. Following their demonstration and the opening remarks, Tillman and Norman will be in the exhibit hall waiting to meet all the pets and their humans. If you've been to previous BlogPaws Conferences you know what fun the exhibit hall is, and this year is going to be the best year yet!
If you haven't registered yet, hurry up and do it! We bet even our cats, ferrets, guinea pigs, hamsters, capybaras and any other pets that might make an appearance at BlogPaws 2012, are going to want their picture taken with these famous dogs! (Me first though. Just sayin'!)