There are so many pet-centric businesses, blogs, events, services and products out there. How do you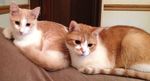 decide which to follow, buy, read, etc.? If you're like us, you want to keep your finger on the pulse of all things pets, but there sometimes aren't enough hours in a day. Truly, there are pets to be hugged and doted upon so you have to step away from the computer sometime, right? 
How do you decide what to read? Who to follow? Do you like blogs that speak about training issues with pets? Blogs that are written about a specific type of pet or breed? Do you follow blogs that offer pet product reviews or information about up and coming service providers? Are you seeking out blogs that teach you something about how to blog? Do you simply settle in and read posts that make you BOL? (bark out loud!) Also, what prompted (or what pet prompted) you to become interested in all things pet?
We'd love to hear what you're looking for when you log in.