OMG! Are you registered for BlogPaws? If you're not, get over and make that happen. You don't want to miss out on this "spooktacular adventure" planned for Friday night at BlogPaws!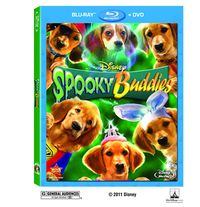 Drum Roll Please…
Disney has selected the 2011 BlogPaws Conference to hold the "first press screening in the country of Spooky Buddies" the quintessential movie with those "irresistible talking puppies"!
Not sure what I'm talking about? (R U living under a rock? BOL!)… well, here's the scoop:
About Spooky Buddies:
Disney's irresistible talking puppies are back in an all-new movie that takes them far across town to a mysterious mansion where something very spooky is going on. With the help of some unexpected new friends —including a friendly ghost, this exciting adventure is howling-good Buddy fun. In a race against a no-good hound, the Buddies and their new friends, Pip, Zelda, Rodney and Skip, must stop Warwick the Warlock — and save the world from his dastardly deeds. Overflowing with action, humor and a bag full of bonus features, Spooky Buddies is a spooktacular adventure that treats you to a celebration of friendship and teamwork your whole family will enjoy. 
OMG! I can't wait! I know you can't wait, either! This fantastic event will be on Friday night – complete with movie snacks and lots more that we will announce soon! Meanwhile, check out the Spooky Buddies link below…
The quintet of irresistible talking puppies, Disney's lovable "Buddies," are back for a ghoulish good time in a fantastic all-new Halloween-themed adventure, Spooky Buddies.  The studio's most popular live-action, direct-to-video franchise makes its highly anticipated return, premiering on Blu-ray™ Combo Pack, DVD and Movie Download — September 20th. 
Do I hear a lot of BOL out there? Oh yes, I think I do! For even MORE exciting info, please visit the Spooky Buddies link right here!
And, stay tuned for even more Spooky Buddies fun just for our BlogPaws community and conference attendees.
This is Yvonne – your Spooky Buddies girl on the ground… over and out!