Guest post by Blog Manager Robbi Hess
My almost-80-year-old mother broke two ribs last Thursday… What does this have to do with BlogPaws? She has an almost 13-year-old Chihuahua, half blind, mostly deaf, never-overly-friendly to strangers, named Chico. As my mom was in the hospital discussions started between my siblings as to "who's going to take care of Chico?"
Prior to my arriving at the hospital it was determined that one sibling couldn't take him because his Mastiff prefers to be the only dog in the house, another sibling said, "we could either take him to the pound or have him put to sleep…" What?! First off, what are the chances of a dog his age,and let's face it his attitude, and health issues getting adopted? Probably none. Putting him to sleep because our mom might be laid up for a while and be unable to walk him? Really?!
Even though I currently have two dogs (and Henrietta does not take kindly to new dogs), four cats and a baby bearded dragon the choice was a no-brainer: Chico would come and live with us. 
Chico was my dad's dog and he never really cared for anyone else in the family. When my dad passed away earlier this year, Chico eventually bonded with my mother. He has been through a lot in this past year; and now he is moved into our home aka zoo, confused, scared and probably wondering where "his" family went. Chico is also accustomed to living with rather quiet adults and having no other pets in the house — this is a major adjustment for him. 
All of this got me thinking: What arrangements do you, or your family, have in place for caring for a family pet if the owner no longer can? Is taking him or her to the pound an option? Would you have him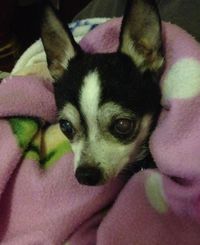 put to sleep because he's an inconvenience? I know from my own experience, facing breast cancer surgery, I made certain that my family would commit to keeping Henrietta if something happened to me during surgery. I needed to know she would be cared for by people who understood her quirks and her need to be the queen of the castle. 
What can you do — today — to make certain your pets or the pets of family members are cared for in the event of a life-changing emergency? Here are my tips: 
Have a family meeting. Since I am dealing with an aging parent my siblings and I probably should have talked with my mom beforehand to talk about arrangements for Chico. 
Make certain all family members know which veterinarian the animal usually goes to and has access to the vet records. 
Does the pet need certain types of food? Does he eat at a specific time of day? 
Does the pet have any medical issues or the need for injections or medications? If you're going to take him into your home you need to be prepared for the care involved. 
What are the pet's exercise needs? If you're accustomed to caring for a poodle and are all of a sudden faced with caring for a Lab are you up to the different challenges it may bring? 
If you're going to be the family member charged with taking on the responsibility of this new pet, why not do a few trial run weekends and bring her to your house. That way, your pets can meet her and if something happens and the new pet comes to live with you it won't be a completely unfamiliar environment. 
Bottom line: A pet is a lifelong commitment, not one to be brushed off once a family medical emergency arises. Do I have a "relationship" with Chico? Not really. He liked being with "his" humans and we were not those humans. Do I feel that this poor dog has been through enough loss and changes this past year and that he deserves to be cared for until my mother can care for him again? You bet I do. Do I know that my mother can rest easy and recuperate knowing we are caring for Chico just as she would? Again, you bet I do. Do I think that my mom's recovery may have been hindered if she'd had to cope with the idea of having lost her dog — her last connection to my dad — because of her injury? Yes. 
Please, don't wait. Talk to your family today and make arrangements for your pets in case something happens to you or to an aging parent. Making decisions while in crisis mode is not the way to operate.