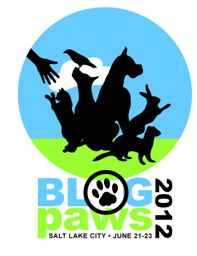 by Carol Bryant
Can that title be right? Indeed, when applied to GLOGIRLY, aka Debbie Glovatsky, the grand prize winner of the BlogPaws 2012 T-Shirt Design Contest.
We had so many paw-tacular t-shirt design entries that it was a tougher-than-usual decision to make for the pack here at BlogPaws.In addition to fame, GLOGIRLY wins a blog badge, contest page recognition, BlogPaws announcement, free conference pass ($199 value) to BlogPaws 2012, this interview, AND her winning design on BlogPaws t-shirts!
We wondered just who GLOGIRLY is, what feline fur-family member inspires her, and getting to know the witty creator behind the Real Housecats of the Blogosphere.

BlogPaws: Hey Debbie, congratulations on winning. Tell our BlogPaws community a bit more about yourself.
GLOGIRLY: I amDebbie Glovatsky, a.k.a. GLOGIRLY. My cat is Katie; Katie is an only-cat.  She's fast approaching her fourth year of blogging.  I say 'She' because the GLOGIRLY blog is voiced entirely by Katie.
BlogPaws: That sounds fun! Tell our members more about the blog.
GLOGIRLY: What the GLOGIRLY blog is: Katie and Glogirly are the creative minds behind the hilarious GLOGIRLY-Tails Of A Cat And Her Girl.  Their blog is voiced by Katie, the sarcastic and sharp-tongued kitty known for her catitude, beauty and wit.  Glogirly is her ever-faithful, eye-rolling human. Together they take on the blogosphere by storm with dazzling photography, Photoshop prowess and witty accounts of life from a cat's point of view.  Recently the duo launched their own YouTube Channel featuring their newest creation, The Real Housecats Of The Blogosphere, a clever reality series featuring catty bloggers from all over the world. 
BlogPaws: Will this be your first time attending BlogPaws (the event)?
GLOGIRLY: Yes!!!
BlogPaws: About the winning t-shirt design, where did the inspiration come from for the winning design and how long did it take you to do it?
GLOGIRLY:I was inspired by the blogosphere and all of the pets and humans that are a part of it.  The blogosphere makes a very big and strange world a smaller and more familiar place.  T-shirts and logos are often tough to design.   They've got to be simple enough to get their message across in the time it takes to blink.  Bold enough to grab attention and create a memorable impression.  But not so simple they become generic.  I spent the better part of a weekend putting it all together, bouncing the finishing touches off of my husband.  It's always important to take a step back and see it through someone else's eyes.
BlogPaws: For others who may not be so art savvy, what tips would you give to learn how to do what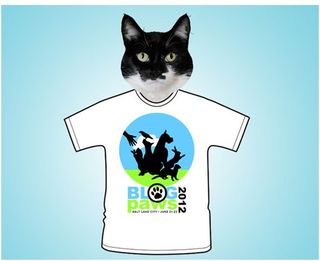 you did for the winning design?
GLOGIRLY: Look for designs that inspire you and try to copy the things you like about them.  For example, do a Google search for award winning website, product and logo design – then feast away at all the great ideas you're sure to find.  Keep it simple.  Less is more.  Don't get tricky with lots of special effects and drop shadows.  Don't use too many colors or different and crazy fonts.  Get familiar with your software and practice, practice, practice.  Every time I use Photoshop or Illustrator I learn something new.
BlogPaws: Where can folks learn more about you, your blog, and to connect?
GLOGIRLY:
Our Blog:  http://www.glogirly.com/
Our YouTube Channel:  http://www.youtube.com/user/DebbieGlovatsky/videos
Our Facebook Page:  https://www.facebook.com/pages/GLOGIRLY-Tails-Of-A-Cat-And-Her-Girl/282290930935
How to become a Real Housecat and star in our videos: http://www.glogirly.com/p/real-housecats-new.html
Our Real Housecats Of The Blogosphere Zazzle Store:  http://www.zazzle.com/glogirl
Twitter:  @glogirly   https://twitter.com/#!/glogirly
Note: GLOGIRLY made a meow-tastic video to celebrate this win: http://youtu.be/VCt-u6a_oX0
Be sure to join us at BlogPaws 2012 in Salt Lake City in June where you meet our contest rockstar.