Wrapping up our series of 15 ways to get more comments on your blog (Caroline's Top 5; Yvonne's Top 5), here are Tom's Tips: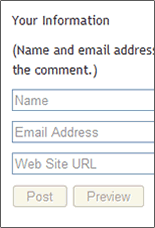 1. Leave a Trail. Give them paw prints to follow you home.
This is really a corollary to Caroline's # 1 ("To get comments, first leave comments on others' blogs"). That's THE # 1 way. Since we started consulting on blogging and social media way back '04, our biggest piece of advice to clients has been to spend half of the time you commit to blogging on other people's blogs, reading and commenting. This overlaps Yvonne's # 1 also: what better way to "make friends" in the blogosphere than showing your interest by reading and commenting on their blog?
But this is no time for anonymity! It doesn't help you get comments on YOUR blog, unless you help them find their way back to yours! Make sure you fill out the boxes with your name, email address (so the blogger can contact you offline, if she wants), and above all, the URL for your blog.

2. Leave a smile. By this I mean leave a picture of your smilin' face, or Fido/Fluffy's furry one, as an avatar alongside your comment. The tools and steps required vary with the blog hosting platform and plugins used by individual bloggers. But it is well worth your time to be on the lookout for them and learn to take advantage. Your comments will stand out and get noticed, making it that much more likely you'll get "trailed" back to your blog. (I know, I'm not a good example!)

Our long-time business blogging buddy Denise Wakeman wrote about this last month in a post entitled, Are you invisible on the business blogs you read?, where she advised: "Help people 'see' you and get to know you better."
Isn't that a part of why Twitter and Facebook are so effective in helping us feel like we're getting to know each other? If you're visiting a TypePad blog like this one, you can "sign in" using your existing Twitter or Facebook (or several other IDs with avatars). That's my Twitter pic floating up there. As Denise points out, you should also set up IDs at a couple of other major sites, like Disqus and Gravatar, so you'll be ready when visiting blogs that use those tools. And TypePad itself has an ID tool called Profiles that you can sign up for without having a TypePad blog, to make it even easier to connect with the millions of TypePad bloggers out there.
3. "Names, names, names." Write about people, especially other bloggers. Mention names. Link to their blogs. If you know them, give them a heads up email. If you're mentioning a post they wrote, use the TrackBack tool (or ping back, or whatever your blog platform calls it), to notify the blogger.
Who can resist visiting to see what you wrote about them? 
This is similar to Yvonne's # 4 (interview someone) and it's a powerful comment magnet, because the person you interview is likely to visit and leave a comment. They're also likely to let their audience know about the nice things you wrote, so lots of them are likely to visit, too. 
The "names, names, names" heading comes from a story told in Chip and Dan Heath's book, Made to Stick, about the editor of a small, local newspaper who told his staff the 3 most important things in the paper were names, names, names. The same logic applies to your blog.
When Nate Riggs wrote 8 Steps to Building a Killer Conference Experience (And How BlogPaws Nailed It) and said such nice things about the first-ever blogging and social media conference for the online pet community, BlogPaws 2010 in Columbus — and mentioned Caroline, Yvonne, and me, BY NAME — we were quick to go leave thank you notes in his comment stream, e.g.:
4. Stay tuned.  Many blogs enable you to subscribe to an RSS feed of the comments on an individual post. You need to use this judiciously, since if you're leaving comments frequently — AS YOU SHOULD BE — subscribing to all of those comment streams would quickly overwhelm you.
But when you leave a comment where the post (or the comments left by others) relate to a topic that's important to you, or your audience, or your business, this can be a valuable way to stay involved in the conversation and get known among the readership of that blog. It's a great learning tool, as well.
By subscribing to the comments on Yvonne's post from yesterday, I was allerted as I was writing this one that Brad Reason, Felissa, and Grace Boyle left comments after mine adding a total of five more comment-inducing tips! This helped me avoid duplication AND learn from others. There may be more by the time you read this, but you get the point.
5. Stay engaged. Comment on your commenters' comments. Notice how Nate responded to my comment above. If you visit the post, you'll see he did the same for most of the other commenters.
That's how comments turn into conversations. Isn't that what you're really after?
Here are how Yvonne and I responded to multiple comments on her post from yesterday:
Whew, there are my five.
Yvonne says whe could come up with ten more.
How about you?