We all love our pets. No matter when in their lives we bring them into our family aging will eventually occur. Actually aging occurs on a daily basis. While they are younger the years go by quickly with our pets in relatively good health. They enjoy playing with toys, running around the yard, jumping on the furniture, and enjoying life. Slowly, as the years continue to go by we notice it become harder for them to jump on the chair or they prefer to nap in the yard under a tree instead of chasing the ball. Nothing else seems to be different they are still happy, love to go for walks, and want to cuddle with us at night. But there is a change.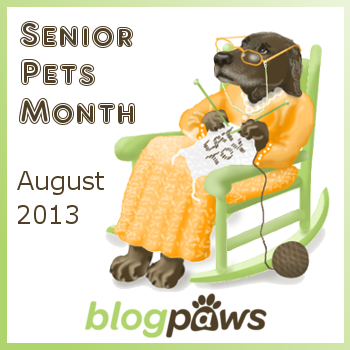 The month of August is dedicated to Senior Dogs here at BlogPaws. We all know how to take care of our dogs during their adult years but what about when they hit 7 years old or 9 years old or even 15. What do we need to do to ensure that we are helping to keep our pets happy, healthy, and pain free for years to come.
Please link up any Blog Posts you have about taking care of Senior Pets. Share your best tips, ideas, stories, or even your journey helping your pet deal with a chronic disease. We want to help raise awareness about caring for all types of pets from dogs and cats to bunnies and parrots.
Once your post is ready to share, be sure to link up here so that we can all visit and learn from you.
To make things fun and encourage entries we have two prizes to give away this month! Winners are chosen via random.org from all entries left in the linky at the end of the month,
Prize Number 1:
The Book Toby the Pet Therapy Dog Says Be a Buddy Not a Bully donated by http://www.TheOriginalTeamToby.com
When Toby steps into the path of a dog who bullies him, and shreds his beloved stuffed teddy-bear toy, we see the hurt feelings it creates. This beautifully illustrated book, Toby, the Pet Therapy Dog, Says be a Buddy NOT a Bully, uses Toby, a therapy dog, to teach children about the importance of kindness, respect, acceptance, and being considerate of others, including pets. A wonderful story to start discussions in ages to 3 to 10. http://www.amazon.com/Toby-Therapy-Says-Buddy-Bully/dp/098360455X/ref=tmm_pap_title_0?ie=UTF8&qid=1372912949&sr=1-5
Prize Number 2
An official Pack Mom t-shirt to a winner. The tee is red and the front says I'm a Pack Mom. The pack has the website www.ThePackMom.com. Shirts run M-2XL in a ladies fitted cut or XL and XXL in a regular cut!