by Kristin Dewey, BlogPaws Special Projects Manager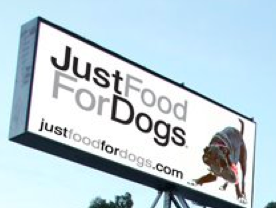 Just Food For Dogs is a commercial, human-grade kitchen in Newport Beach, California providing daily food for healthy dogs and customized food for dogs with special dietary needs due to illnesses or allergies – and a new BlogPaws Community member.
They're very serious about helping dogs – by giving them whole, fresh, good food without questionable, though legal fillers and less than optimal ingredients. They even have a popular "Yappy Hour," during which customers and their dogs are treated to free snacks, dog food samples and wine! It's quite a social gathering in the local pet community – and they have in-store dog food cooking classes, too, and home-made dog food recipes on their website. 

This summer, they're giving away $10,000: $1000 per week* to different pet charities chosen by local veterinarians.
$10,000 cash is displayed each day at Just Food For Dogs, and customers purchasing dog food take $1 from the display for each pack of food they purchase and place it in a plexi-glass box to benefit the charity for that week. 
A card is displayed each week next to the box, with info on the vet and their chosen charity, so customers can load up on dog food during the week their favorite charity is the beneficiary.
The charity checks will be presented at an open house at Just Food For Dogs on August, 26, 2012.
Marketing Director Justin Bonnatto told me, "There are several owners. Shawn Buckley is the founder, he is a career entrepreneur and dog lover. One of the other partners is Dr. Oscar Chavez, DVM. Dr. Chavez is also a professor in Clinical Canine Nutrition… I can tell you from personal experience, our owner, Shawn, is committed to dog wellness. We love dogs. Period. Our company's core competencies are honesty, transparency, and empowerment with respect to our dog's nutrition and happiness."
Justin continued, "JustFoodForDogs is very "rescue" friendly. We have made cash donations to, and held fundraising events for a number of dog rescues and related charities. A couple of examples: we donated $1,000 cash seed money and gave significant support to Pet Place International, a fund raising event that raised $11,000 in cash. We covered the costs to host a charity event at the JFFD kitchen for Blankets of Love (supplies for shelter dogs) which raised over $4,000 in cash…
"We have hosted "rescue days" at the JFFD kitchen numerous times for a variety of rescues, including German Shepherd Rescue of Orange County, Barks of Love, Southern California Golden Retriever Rescue, Sunny Saints Saint Bernard Rescue (we made a $100 cash donation as well on Sunday), ICare Rescue, etc."
Two weeks ago Just Food For Dogs made a cash donation to WAGS. Six weeks ago, they rescued a dog scheduled for euthanization at a Downey Shelter, fostered her, paid for all her medical bills (over $1,500) and then found her a forever home. When a dog was stolen from a home in Newport Beach earlier this year, Just Food For Dogs offered a $1,000 reward to anyone providing information to the Newport Beach Police Department, eventually leading to the arrest of the perpetrator.
Summer Charity Giveaway beneficiaries:
Thank you Just Food For Dogs for doing your part to Be The Change For Pets!
Readers can visit Just Food For Dogs and participate in their Summer Charity Giveaway at:
Just Food For Dogs , 500 W. Coast Hwy, Newport Beach, CA 92663 949-722-3647
*There are 9 charities, each with a minimum guarantee of $1,000 they will earn their featured week. The extra thousand (hopefully more) comes from their promotion of donating a dollar for every package of food sold that week, to the corresponding charity, such that each charity should exceed the $1,000 minimum. Just Food For Dogs is giving away $10,000 on their event day, regardless if certain charities only meet the minimum. If they give away $9,100 over the 9 weeks, they will disperse the remaining $900 evenly during their giveaway event. 
If you have a Be The Change For Pets story, news or report I should consider for this section, please email me at kristin (at) blogpaws.com.