Since its inception, the heart of BlogPaws is for the pet bloggers, pet parents, and in giving back. Each BlogPaws Conference means education, networking, brands, fun, swag, and so much more….but it also means giving back.
BlogPaws is proud to reveal that Noah's Animal House has been selected to receive a donation at the BlogPaws 2014 Conference on Lake Las Vegas.
Las Vegas was one of the first cities in the United States to address this important barrier facing victims of domestic violence. Noah's Animal House was built on the grounds of The Shade Tree shelter in 2007 to provide safety, shelter & support for the pets of the clients of The Shade Tree.
Did You Know?
According to Staci Columbo Alonso, Founder of Noah's Animal House @ The Shade Tree Shelter, every 15 seconds, a woman is battered by her partner in the United States. People who have never been involved in an abusive relationship, often ask the simple question – why don't they just leave? The answer is complex. Many battered women lack the financial resources & emotional support to flee their abuser. Somehow they convince themselves that this is the life they deserve, this is their only choice. Their confidence is so beaten down from the verbal abuse – that they no longer believe they are worthy of freedom & a happy life. Often, the inability to leave is expanded to include family members; especially those sometimes forgotten – the family pet. In attempt to exercise power & control, the abuser threatens to harm or kill the family pet when the victim attempts to flee. In a national survey, 85% of women seeking safety in a domestic violence shelter reported pet abuse in their home.
When designing Noah's Animal House in 2006, there was no other full service kennel on the grounds of a domestic violence shelter to provide  them with volume or demand assumptions. Even with a limited footprint of 1400 sq feet, they assumed they had more than enough kennels to accommodate demand. Little did they know – they would be at 100% occupancy most of the time.
The domestic violence victims that arrive on the doorstep of Shade Tree with their children & their pets are some of the strongest women the folks at Noah's Animal House founder has ever met. With their confidence shattered because of the cruel mental & physical abuse by someone they loved and trusted – they still had the courage to move forward by taking this first step to freedom. It has been their pleasure to provide them with our service of care, protection & shelter for their four legged family members while they focus on themselves.
As being recorded across the country, the current economic crisis is causing a rapid increase in domestic violence crimes & reporting. When partnering the increase in demand for our services with the depressed job market & record unemployment rates in Las Vegas – it produces the challenges we are facing today. More women & pets arriving and less are able to leave because they can't get back on their feet economically as quickly as in the past.
Follow this link at Noah's Wish to read more about the animals and women helped at the center: http://www.noahsanimalhouse.org/about/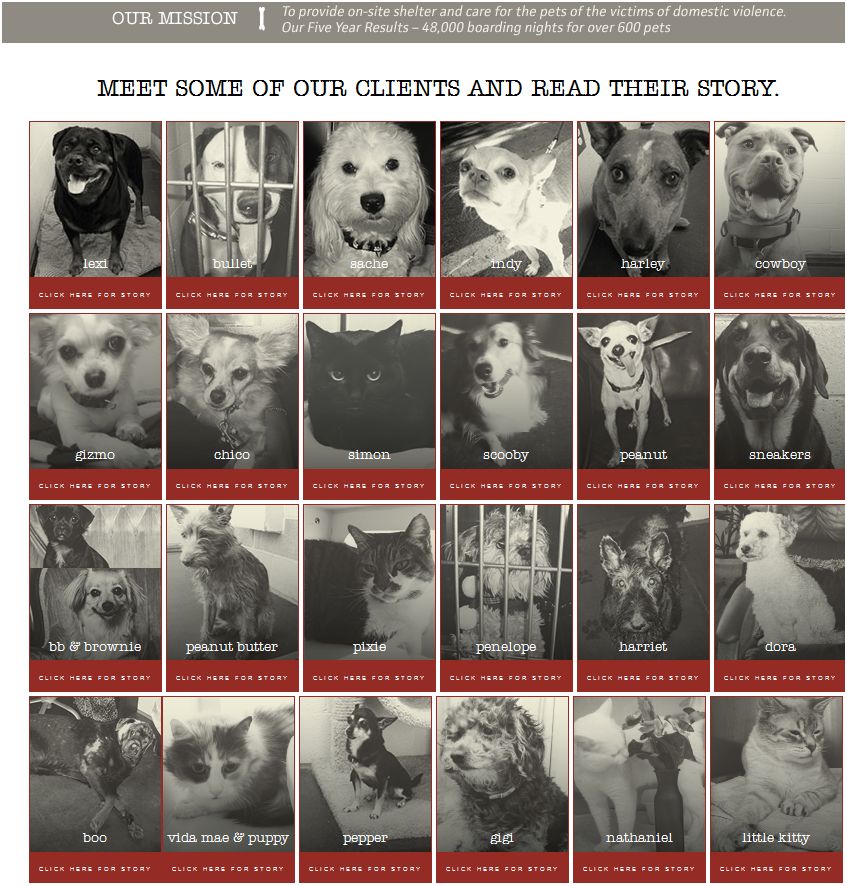 You can watch this very moving presentation at the BlogPaws Conference during opening remarks on Thursday evening, May 8th, at the Westin Lake Las Vegas.
Attendees will also have the opportunity to meet the folks from Noah's Animal House at the Conference, so be sure to stop by their exhibit area.
Noah's Animal House, located in Las Vegas, is a veterinary & boarding sanctuary on the grounds of a domestic violence & crisis shelter.The Shade Tree Shelter is the largest women & children's shelter in Nevada. We hope to see you at the BlogPaws Conference where you can meet this fantastic group.