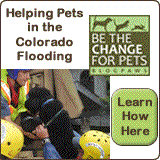 The news has been inundated with updates and information about the floods plaguing Colorado. Shocking images run across the screen, astonishment is heard in the voices of the reporters covering the event, and stories of survival are being shared. The BlogPaws headquarters happen to be in Frederick, CO and Pet360 has staff located in Broomfield and Longmont. All areas are affected in one matter or another, but everyone is safe and dry. We are very lucky for that.
It's hard to express the emotions that are going on right now locally. There is an overall strong community who are committed to rebuilding and supporting each other to be stronger after this historic flood. But there is also an overwhelming feeling of shock, of disbelief over what has happened and what lies ahead.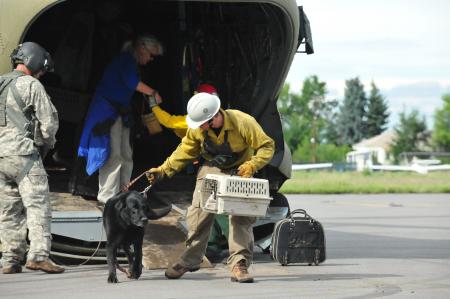 One fact is that Colorado needs help. According to the latest local news stations the Colorado National Guard, with assistance from Units from Ft. Carson and other First Responders, have rescued 2,200 people and over 500 pets. Over 11,700 people have been evacuated and 17,494 structures and homes have been damaged with 1,502 completely destroyed. We've watched Chinook after Chinook unload dozens of people and seen pets with them on every rescue. But, where do all of those people and pets go?
There are 26 emergency shelters set up with more being added as needed, but not all of them are pet friendly. That's where the local Humane Societies and Shelters have stepped up. They are taking in whatever pets they can, and we've even heard The Longmont Humane Society ended up putting up a few people too!
So what can you do? You can help spread the word about the places that need help. We know there are many out there, and here are a few that we know personally. We've been to these shelters, we've met many of their staff and we've seen first hand what their efforts can do. Please spread the word. If you can make a donation that would be most appreciated by the people and the pets. If that is not feasible for you right now, please share their efforts.
The Longmont Humane Society started an online fundraiser specifically for the displaced pets. You can make a donation here. 
The Humane Society of Boulder Valley has been taking in pets and is taking donations here.  
The Larimer Humane Society is accepting pets and housing some lost pets from the heavy flooding that hit Loveland, CO. You can make a donation to them here.
You can also follow Colorado Disaster Wildfire/Flood Lost & Found Pets on Facebook and Twitter. They are sharing pets of all sizes. Currently these friendly Donkeys have been found and are looking for their family: 
Some local information to share:
Most of all, keep Colorado in your thoughts and prayers and send your love. We need positive energy and are going to continue to need it for a long time.