by Carol Bryant
You've
landed on the homepage of BlogPaws. Now what? If you've never heard of us
before or you are a veteran of our nearly 4-year-old company, here's what you
need to know to maximize your BlogPaws experience online and in person.
And
stay tuned, we've got plenty of surprises, plans, and announcements to come.
For now, get your jump start here:
What is BlogPaws? BlogPaws is a Social Media
Company focused on teaching pet enthusiasts how to use social media
effectively. We also work year round to connect our bloggers and micro-bloggers
to the brands they buy every day. Our online community site is for pet
bloggers, pet enthusiasts, pet people on Twitter and Facebook and brands eager
to tap into a growing, vibrant, vocal community of serious writers, bloggers,
tweeters.
What Are the BlogPaws
Conferences? Our co-founder, Yvonne DiVita, summed it up
best when she wrote this: "We've
been told that our conference is more than a great place to meet your pet peeps in real
life – it's the best bet on the net! Whoohoo – try saying that three times
fast! With some of the most knowledgeable experts in social media attending and
presenting, our conference can help even a newbie jump six months ahead in
learning how to be a better blogger or how to use Facebook, Twitter, even
email, better. Aside from the great experience of those nose-to-nose
connections, the BlogPaws conferences offer insight and substantial take-aways
you can implement the same."
You can see a smattering of who we
are and what our conferences encompass here:
What are the Nose-to-Nose Pet Blogger
Awards? We award our bloggers in red carpet style at the yearly BlogPaws
conferences, see?
I've Heard About Blog
Hops and Wordless Wednesdays: Huh? Each week, BlogPaws hosts a Wordless
Wednesday Blog Hop on our website.
This post will explain how blog hops work and get you ready for Wednesday's
hop. It might sound complicated at first, but once you've done it, it's easy!
Our Special Projects, Manager, Kristin Dewey, made a great tutorial here on Blog Hops.
Do You Have Twitter
Chats? Absolutely! Join us on the second Tuesday of
each month from 8-9pm ET for a Twitter #BlogPawsChat. 
How Can I Connect
Year Round with Pet Bloggers? We have many groups in
our Community, which is provided at no cost. You simply register and we approve
your request, and then onward! Groups such as Blog Talk, Contests and
Giveaways, Pet Products Companies, and more. BlogPaws is a
Community of like minded, passionate pet bloggers, helping one another expand
our networks and achieve our online goals. 
Do You Interact With
Media? Absolutely! Rather than telling you, let us show
you. Have you been to our Media Room and/or downloaded our
media kit? We get around, year-round, and we connect bloggers to each other, to
brands, to education, and much more.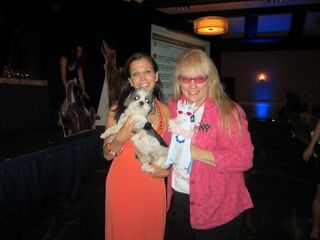 I Want to Help
Animals and Have No Idea Where to Start. Help! Be the Change
for Pets is about each of us doing our part to help animals across the globe
and to support others in their efforts. It's about working as a team,
overcoming challenges and celebrating triumphs together. It's about love,
commitment and dedication to making a real change for animals in need because
even the smallest contributions become a movement when added together. We
invite our community, the brands we buy and animal lovers everywhere to join
us, each and every day, to "Be
the Change" we all want to see.
Still
Hungry For More? We give back, we interact, we connect, and we're here to stay.
See? https://www.blogpaws.com/2012/07/what-you-dont-know-about-blogpaws.html