BlogPaws aims to inspire, educate, and cultivate the top Influencers to share their love of pets with their readers, fans, and followers and to help them make some money along the way. Through the BlogPaws Pet Influencer Network, influencers have been able to share their passion for the health and well-being of their pets and for all pets–even those living in shelters waiting for their forever home.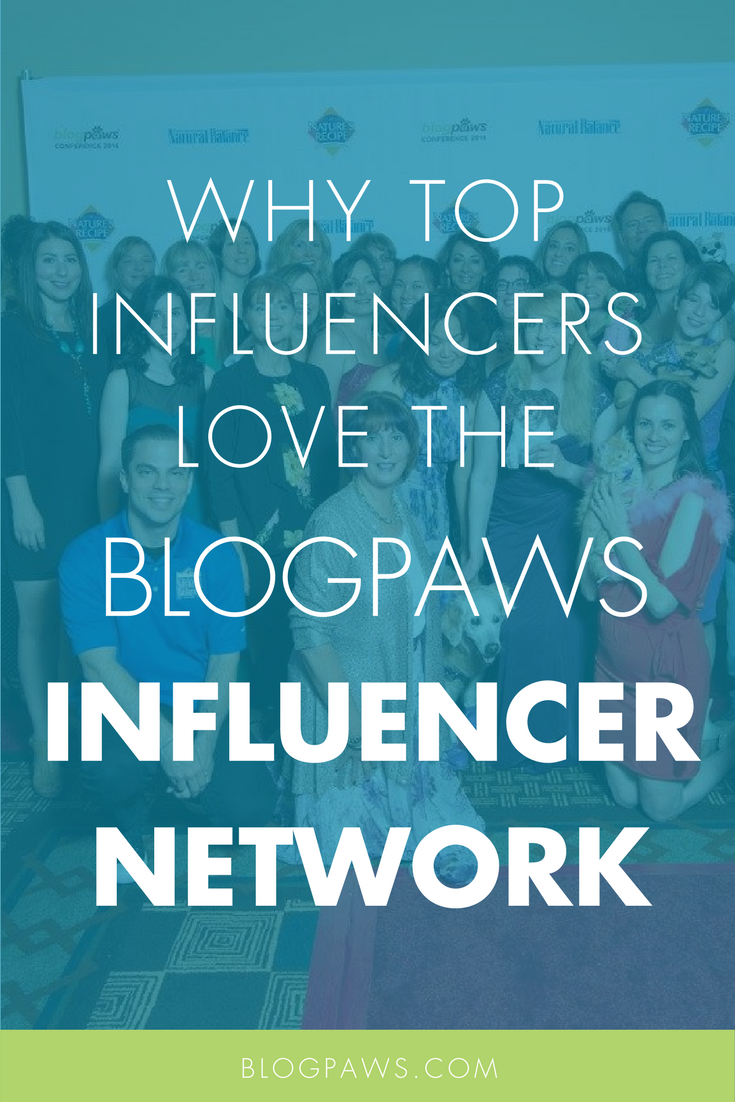 BlogPaws Pet Influencer Network members not only make money working with the brands they love, but they become true advocates, which enables them to bring their content to a whole new level and to really connect with their audience.
"What makes BlogPaws Influencer Network stand apart from other networks is the fact that they do a fantastic job matching influencers with brands, to the point that many of the brands later have created long term relationships with me even after a campaign has ended. Their focus is really about helping bloggers and companies truly come together to help animals by making sure they have similar philosophies when it comes to animal care. Unlike some other networks, it also maintains a focus on quality and relationship over numbers." Susan, Budget Earth
Over the years, I have had the honor and privilege of working with and watching individual influencers within our network grow in ways they never thought possible. From advancing their photography skills to creating hard-hitting content and, most recently, tackling and owning video all because of their love of cats and dogs and all the other pets under the rainbow. While we try to make campaign deliverables clear and concise, we do work hard to ensure that our pet blogging community stays up to date and relevant within the Industry.
"I love working with BlogPaws because they are the most supportive group of empowering people I have met in my blogging career. BlogPaws people are truly passionate about representing the best branding partners for our pets. I look forward to networking with my fellow BlogPaws community every day. I always know that I have support when I need it, just as I give support when I am able. I love BlogPaws!" Joely, Fashion Beyond Forty
BlogPaws Pet Influencer Network is more than a network that pays influencers. We are a community and a family with one shared mission: Ensuring our pets live long. happy, healthy lives.
"Through its conferences and online engagement, BlogPaws has become more than a company to me. It has become family. By attending the BlogPaws conferences and participating in Twitter chats, the people behind the BlogPaws name have gotten to know me and I have gotten to know them. It is this experience, and sense of community that makes me want to apply for every Influencer opportunity that comes my way. Of course, my four cats and one dog encourage me to apply also.   When it comes to BlogPaws campaigns, I know that they will be 1) well organized 2) contain clear instructions 3) list blogger expectations 4) involve fair compensation and 5) involve a quality brand or product." Kimberley, winterandsparrow.com (formerly Saving More Than Me)
Through the BlogPaws Influencer Network, we really get to know the influencer and their pets so when it comes to helping brands make their final decisions, we know who the best advocates will be, which mix of influencers will create the most engagement, and who will become a lifelong fan. On the other end, before we even bring a campaign to our community, we have had several discussions with the brand or product team to get to know what they are looking for. That helps us set influencers up for success.
"BlogPaws affords me the opportunity to work with quality companies that offer my readers excellent products and education. BlogPaws has also provided me with a network of fellow bloggers who are there if I have questions or need support." Patty, Broken TeePee
The education we provide to our Influencer Network helps ensure that they are above the curve when it comes to the rules and regulations that govern the space. We ensure FTC and FDA compliance in order to help protect individual influencers and the brands we work with. Often, the education goes both ways where the BlogPaws team not only reviews content for compliance but shares the most up-to-date FTC and FDA guidelines with the brands we work with.
"The BlogPaws team always provide concise ways on how to successfully work with brands. I was able to apply what I learned and helped open many opportunities plus get noticed." Rosalyn, Golden Woofs
In the end, it comes down to the fact that BlogPaws encourages influencers to share their love of their pets with their followers in ways that create engagement and helps the influencer create a deeper connection with the community they influence.
"First, and most obvious, it has the best campaigns for pets! The main reason I love working with BlogPaws, though, is the overall structure of the campaigns. While clear goals and key messages are outlined in the briefs, I feel like BlogPaws allows plenty of room for creativity. I can tell my story in my own voice, the way I feel it will best resonate with my readers. If I do have any questions, campaign managers are not only responsive but also super personable, which makes me feel more comfortable going to them with any concerns. Overall, BlogPaws feels like a community and a true partnership, and that makes me want to work with them as often as possible!" Nicole E. Pretty Opinionated
Professionalism is at the core of everything that we do at BlogPaws, whether we're helping to educate our Community, helping connect influencers with brands they will love, or working behind the scenes to ensure our influencers are empowered to produce the best quality work time and time again.
"I love to work with BlogPaws because they are professional on every level and have always been there to help.  If I ever have any questions in regards to blogging, pets or campaigns that I am working on through their network, I know that one of their amazing team members will be there to assist me. I've worked with many blogging networks over the past 7 years and BlogPaws is by far the very best!" Jen, My Brown Newfies
Have you joined the BlogPaws Pet Influencer Network yet? What questions can we answer for you about BlogPaws and how we connect influencers with brands? What are your blogging goals for the new year that we can help you achieve? Please share in the comments so we can all learn and grow together!
Felissa Elfenbein is the Director of Influencer Marketing for BlogPaws. During the day Felissa can be found creating proposals for new campaigns, on the phone with brands, working on VIP events for the conference, and Skyping with the Pet360 Media Sales Team. Felissa lives in the Northeast Georgia Mountains and has two senior Cavalier King Charles Spaniels better known as the Two Little Cavaliers.