Is it your dream to quit your day job and turn your hobby blog into a full-time business that will allow you to work from home surrounded by your loving pets? If that is the case, it can happen. I am living proof of that. Let me tell you though, it did not happen overnight. I blogged while I worked as a newspaper reporter and newspaper editor. I blogged while I worked for a book publisher. I blogged while I was the executive assistant to the director of a drug and alcohol clinic. I blogged while I published my own print magazine.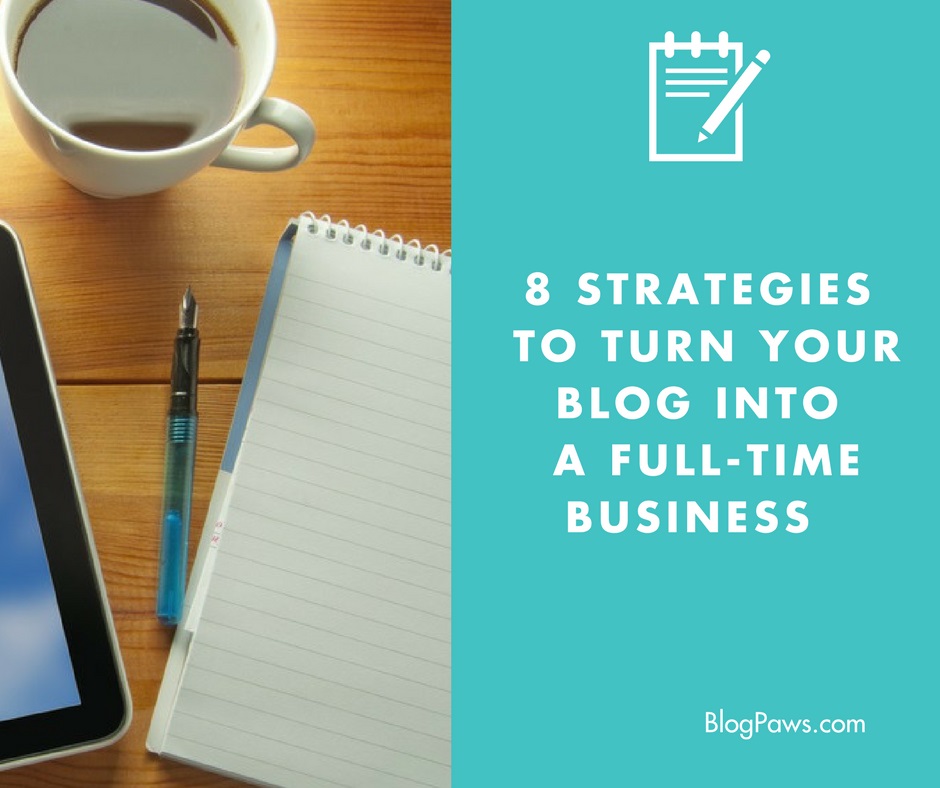 Do you see where I am going with this? I blogged for many, many years while I held down "outside" jobs to pay the bills, offer my pets the lifestyle they deserved and pay for family vacations and my kids' back-to-school supplies. We were a two income household, and my income was needed. My blog was a hobby that generated very little income. When I started out, I would blog for product or books to review simply to get my name "out there."
Keep in mind that everything you do can be an incremental step toward turning your blogging hobby into a full-time business. Remember you need to treat your blog as a business and act like a boss. Here's how:
8 Strategies to Turn Your Blog into a Full-Time Business
Write an eBook. What will you write about? Look at your blog posts and see if you have enough information–aka blog posts–there that you could turn into an eBook. Look at the categories on your blog and see if there is a category about which you are passionate. Look at all of the blog posts in that category and determine whether it can be turned into an eBook. I'll bet they can. There is a great book, Blog to Book, that offers tips on "how to write, promote and publish your book one post at a time." Once you've written your eBook, have it edited, have a cover designed, and sell it on your website. Boom. Passive income!
Teach a class. Do you have a unique skill set that lends itself to a class? Are you a dog walker who can offer tips on how to start a dog walking business? Do you speak at conferences on a particular topic that you could turn into a course? Do people come to you for advice and assistance based on your experience? Consider bundling that into a course and selling it on your site. Again, passive income.
Sell merchandise. Does your dog or cat have such an adorable mug that their face could grace a mug? Hhhmmm. Check into offering merchandise based on your pet or based on another item on your site or on a passion of yours. Do you make vegan, organic dog shampoo? Consider selling it on your site. Do people constantly tell you how cute your pet is? Put his or her face on a coffee mug or a mouse pad or any other piece of merchandise and offer it up for sale. There are many online sites where you can upload an image and purchase merchandise.
Ads. I know. I can hear the groans. No one wants ads on their site, but if you are choosy about the ads you place, they could enhance your blog content while making you money. Sure, if you're a raw feeder you don't want to have ads for store brand kibble, so look for items to advertise that you believe in.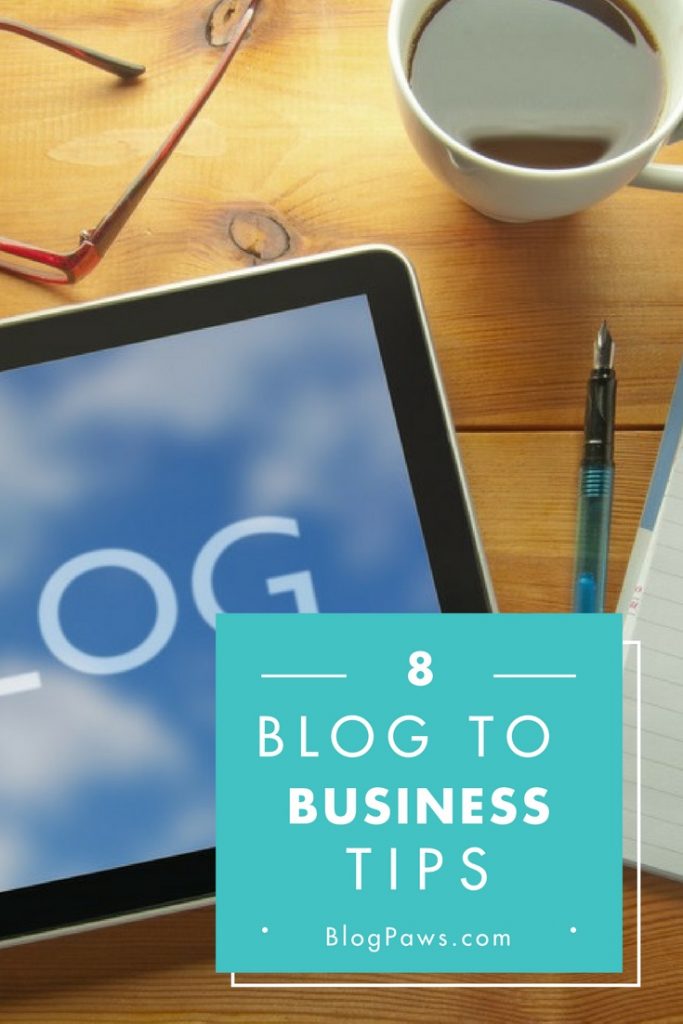 Affiliate programs. Do you always purchase Brand A items? Reach out and ask Brand A if they provide an affiliate program. Don't rush into becoming an affiliate for every item you talk about on your website before you read the fine print. Some affiliates want exclusivity while others may want to approve your content before it goes live — even if you're not mentioning their product. Choose your affiliates wisely.
Get paid to blog. You can accomplish this by applying for sponsored post opportunities — BlogPaws frequently provides this opportunity. Look online for opportunities to get paid to blog. Bear in mind that if you're writing a sponsored post, you will need to have a disclaimer that indicates it's a sponsored post. Some bloggers I've spoken with don't like to write sponsored posts, others see it is a great source of income — you decide.
Write for others. If you're a skilled wordsmith, sell your writing services. My main source of income is from paid blogging gigs. I have clients for whom I write blog posts and manage their marketing and social media. Do a search for "writers wanted." Make note on your website that you are a "writer for hire." ProBlogger provides a clearinghouse of writing gigs and there are many others as well. BlogPaws accepts guest bloggers; check out the writer's guidelines and make a pitch.
Become a virtual assistant. If you have mad organizational skills and want to work in the pet industry, offer your skills as a VA. In this role you may be called upon to manage meeting calendars, schedule travel, check blog posts for accuracy, hunt up images for blog posts, write editorial calendars, schedule social media posts, and more. Most people cannot simply wake up and say, "I'm a virtual assistant," because it requires special skills and experience, but it is an option worth checking out.
When you're just starting out, or even if you've been at it for a while, turning your blog into a money-making endeavor will take time and focused effort. Start thinking of yourself as a business owner and your blog as a commodity and you may find yourself uncovering sources of income that will help you make the leap into full-time blogger status. I've offered 8 strategies to turn your blog into a full-time business but would love to hear more. Share your tips with our readers in the comments!
Robbi Hess is an award-winning author, full-time writer, newspaper columnist, writing coach and time-management guru. She works with bloggers and solopreneurs and blogs at All Words Matter. I will be speaking at BlogPaws 2017 as part of the Cat Writers' Association. My topic is: "Overworked & Overwhelmed? The Four-Step Process for Reinventing Your Writing" Synopsis: Whether you're writing full time, blogging, in the midst of a multi-book project or just starting out, this session will help you lose the feeling of being overworked and overwhelmed. You'll learn a four-step process to beat procrastination, use time blocking to help you get more done, claim your writing time and bump up your creativity and some in-the-trenches writing tips, hacks and advice. There will be giveaways, handouts and time for questions! Hope to see you there!