Did you catch our  25 ideas for pet blog holiday content post? Add to that holiday treasure trove of content ideas, as this week's blog hop for Wordless Wednesday is dedicated to December content ideas for pet influencers. We are going beyond the holidays with creative and unique blog post idea starters. Happy blogging, happy social media posting, and happy holidays! December is upon us!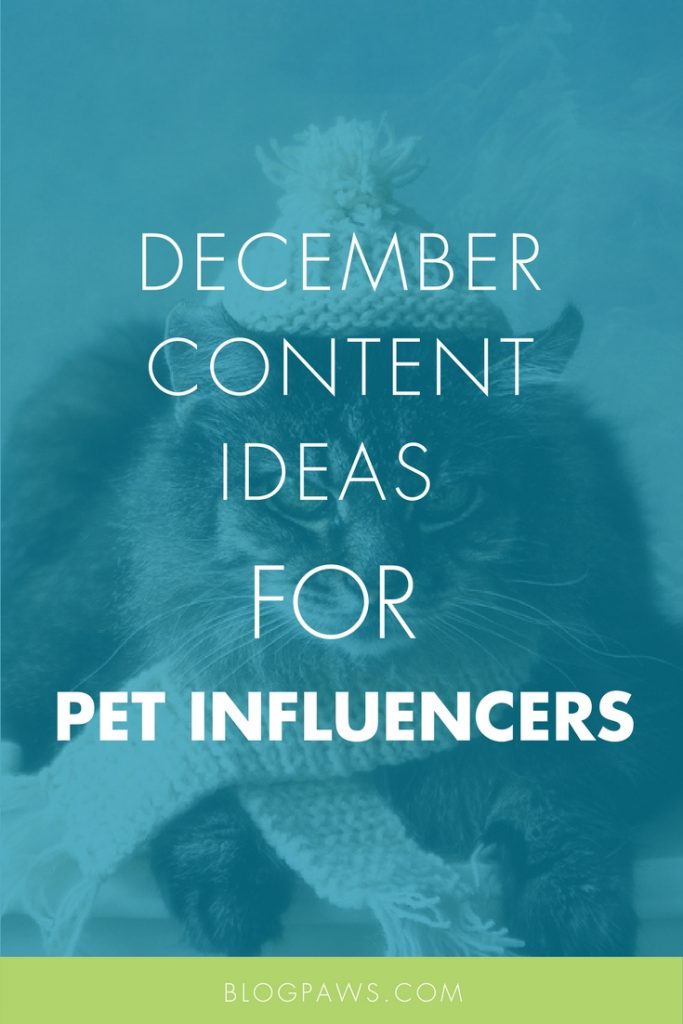 Seasonal
How to snazz up a non-traditional pet home for the holidays (birds, ferrets, fish, reptiles)
December 2: Hanukkah begins at sundown, National Mutt Day
December 19: National Ugly Christmas Sweater Day (great for pet fun)
DIY Ornaments with a Pet Theme
Decorating a Christmas  Tree with a Pet Theme
---
Safety
Winter dangers for pets: Everyone blogs about holiday dangers; be different and showcase winter dangers for pets.
Treats Your Pets Can Eat
Christmas Tree and Decorations: How to Keep Pets Away
Why Pets Do Not Make Good Gifts for the Holidays
Liquid Dangers to Pets
---
New Year's
Keep Pets Safe From Bolting: Fireworks and Pots and Pans Clanging Alert
Alcohol and Pets Do Not Mix
New Years Resolutions for Pets
End of Year Sales and Bargains for Pet Lovers (include affiliate links, as people want to spend those holiday gift cards)
Pet Friendly Things to do For New Year's Eve
---
Non-Holiday December Themed
December 4: World Wildlife Conservation Day
National Cat Lovers Month
Safe Toys and Gifts Month
Pet Friendly Places to Visit to Escape the Holidays
Pet Themed Books to Read by a Cozy Fire
---
December Potpourri
Bah Hambug: How to Channel Your Inner Elf When You Hate the Holidays
Reasons for the Season: A list of things to be grateful for and encourage your readers/followers to chime in with their favorite reasons for the season (makes a great social media post)
---
Get the Latest in Social Media, Pet Blogging and Pet Influencer Education at the BlogPaws 2018 Conference in Kansas City, Missouri.  If you want the early bird rate before a sell out, claim your BlogPaws 2018 Conference tickets here.
The Wordless Wednesday Blog Hop
BlogPaws offers year-round interaction, activity, community and more to learn, earn, and connect. Visit and leave comments on other blogs to make some new buddies and maybe some new followers. You can add the button to your post and/or to your blog sidebar, either by cutting and pasting the image or using the HTML code below. Need help? Here it is:
How to Join a Blog Hop – BlogPaws Tutorial Video: Step by step help to get you started:
.



Image:  Daykiney / Shutterstock