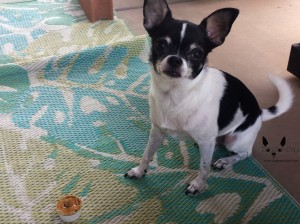 It is sweltering here in Western New York and the humidity is making me feel like I am going to melt every time I leave an air conditioned room!
I was thrilled to have found this frozen peanut butter dog treat when I was reading a BlogPaws Community member site, Dog Mom Days.
If you're a do it yourselfer, but don't want to run the oven during these hot summer days, you will want to check out this frozen dog treats recipe for your furry family.
(Photo of Wynston, submitted by Amanda Yantos of Dog Mom Days)